The story of "random bin picking" at Liebherr began about ten years ago. Part of a major order for two manufacturing lines involved the automation of the line entrance using bin picking. At the time, the technology was still in its infancy. "Liebherr really wanted this order," says Jürgen Groß, Sales Manager Cells and Flexible Manufacturing Systems at Liebherr. Together with the Fraunhofer Institute for Manufacturing Engineering and Automation (IPA), Liebherr developed an overall solution: "Fraunhofer had the technology expertise, we had the application expertise. This enabled us to successfully realize the order."
Sophisticated bin picking
"Bin picking" is one of the most demanding applications in industrial automation. Removing parts which are provided in a disorderly way from containers, and their correct, oriented placement into a workpiece carrier is child's play for the human brain. For the robot, on the other hand, it is a Herculean task. Due to the "chaotic" initial situation, this requires complex interaction between the image recognition system, software, gripping technology and robot.
For companies, the application is worthwhile for two reasons: Firstly, automation with flexible robot systems increases productivity and reduces unit costs and secondly, operating personnel are relieved of monotonous and strenuous physical tasks and can take on value-added tasks. However, the supposed challenges of bin picking often appear to be a hurdle, especially for smaller companies.
Unlike many other providers, we not only supply software and object recognition systems, but also know exactly what the requirements of the application side are.
From research result to marketable product
"We can alleviate this concern for users," says Jürgen Groß reassuringly. "Because unlike many other providers, we not only supply software and object recognition systems, but also know exactly what the requirements of the application side are." Reliable, robust vision systems and the powerful LHRobotics.Vision software ensure smooth object identification and selection, collision-free withdrawal of parts and robot path planning all the way to the deposit point.
Specially developed grippers extend the robot's degrees of freedom by adding a seventh or eighth additional axis and ensure complete emptying of the transport container even for parts with challenging geometries. Temporary storage buffers any incorrect gripping – for example, if parts get caught – and ensures that the cycle times of the machines or production equipment are adhered to. Liebherr offers the option of testing the process in advance virtually or on real test cells at the Kempten Tech Center.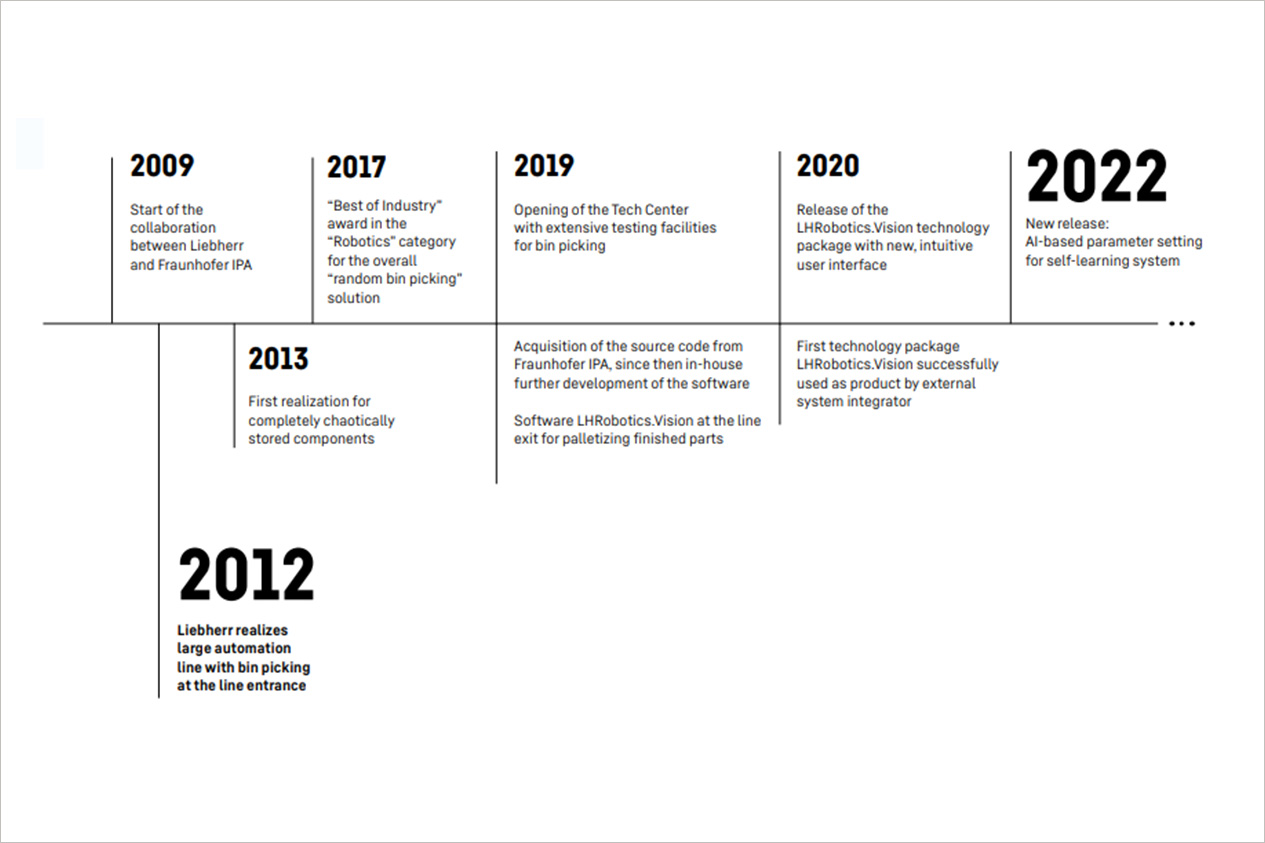 Bin picking made easy with LHRobotics.Vision
The highest demands are placed on mechanical gripping in connection with loading into a repicking station or directly into the clamping fixture. Possible collision points must be precisely defined and the parameters for the robot's path planning must be calculated exactly. All this is handled by the LHRobotics.Vision software, which has been further developed by Liebherr for industrial use – supported by a user-friendly and intuitive user interface. Artificial intelligence (AI) simplifies the fitting of new components into the bin picking process – a quantum leap that makes it possible for "everyone" to use the technology.
Cross-industry application possibilities
Liebherr's total package has already proven itself in numerous applications in powertrain manufacturing. There is further potential in body construction, assembly and logistics (more information here). Jürgen Groß is looking to the future: "Bin picking is by no means limited to machining. Liebherr is also building bridges into other industries, for example in component data provision or collaborative systems in which robots interact with humans."