Top performance
Lattice boom crawler cranes are used when other cranes reach their limits. They are used to hoist particularly heavy loads. And they are required when particularly great hoist heights or radii are necessary. The requirements for crawler crane performance are high and continue to grow. All the components must therefore be analysed and improved on an ongoing basis. Roland Bohnacker, Crawler Crane Development Manager, explains how the fixed jibs on our latest crawler crane models deliver top performance in every sense.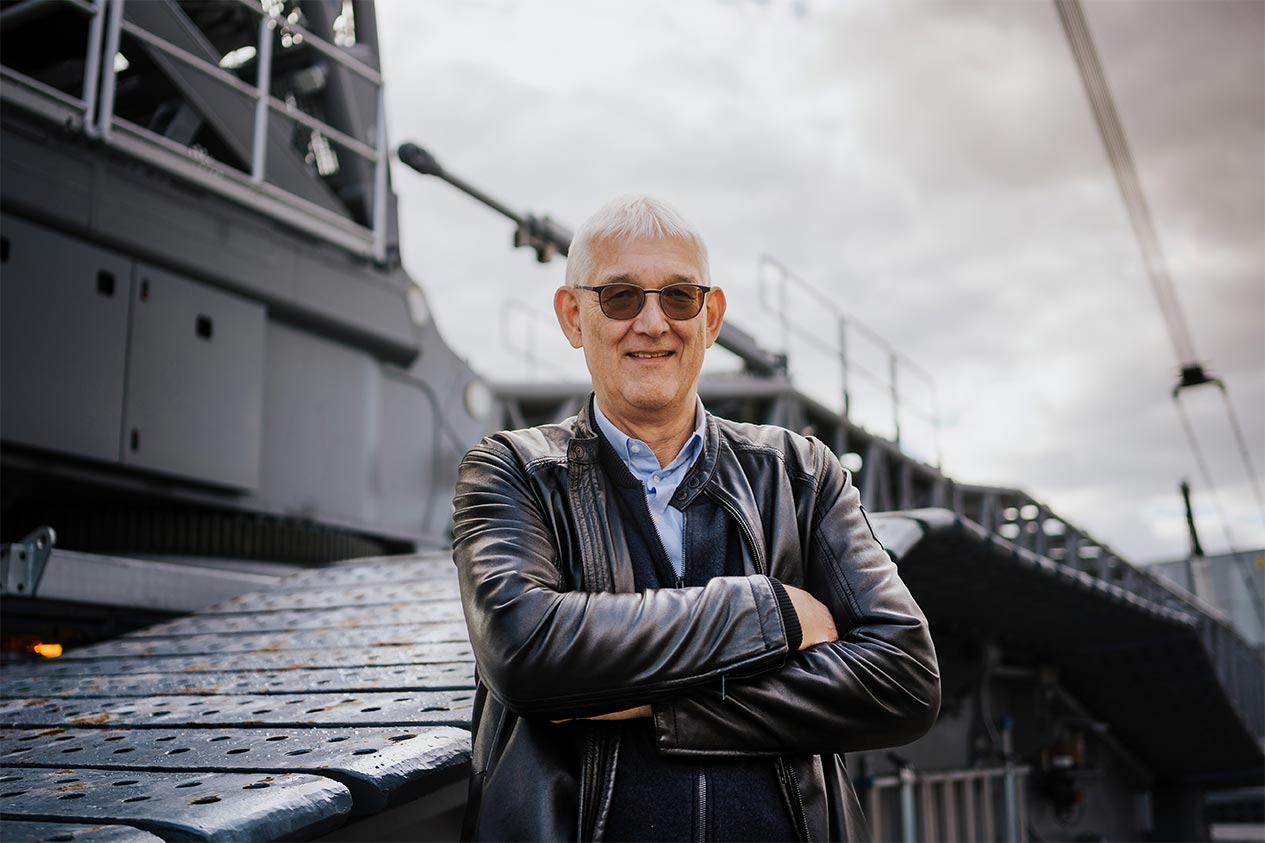 Main boom or luffing jib configurations are the norm for heavy load or industrial jobs. Fixed jibs are more of a rarity in these cases. However, they are certainly useful for some jobs and are popular if an interfering edge requires an angled lattice jib, but you want to save the cost of the more expensive installation of a luffing jib. Optimisation of the fixed jib was by no means a priority in the past. But the developments in wind power – ever higher and heavier – has resulted in an increase in the significance of fixed jibs on lattice boom cranes. In this area, they have now become essential equipment because not only do they generate the space required to the main boom, but they also deliver greater hoist height and lifting capacity.
Today, we can offer a jib for the LR 11000 which can hoist 253 tonnes – a value which was inconceivable just a few years ago. This is the positive result of close cooperation with our customers. We have even managed to go beyond their high requirements. And we have learned a great deal. For example, we have managed to transfer the concept of the F2 fixed jib from the LR 11000 to our new LR 1800-1.0 and LR 1700-1.0 crawler cranes.
Intensive discussions with our customers have enabled us to improve crane components so that they meet the rising demands of everyday practice.
Common features
The main point is designing the fixed jib for maximum lifting capacity. The fixed jib on the LR 1700-1.0 can manage 170 tonnes, whilst the one on the LR 1800-1.0 achieves 185 tonnes. Other common features include the 3 meters section length of fixed lattice jibs – in addition to the 12 and 6 meter intermediate sections, we also have 3 meter sections. These improve the lifting capacities over the entire hoisting height range.
To cover a wide range of jobs, the fixed jibs can be installed at three different angles. The smallest angle delivers sufficient space for wind power erection work. The larger angles are used for industrial jobs which often have to overcome interfering edges using longer jibs.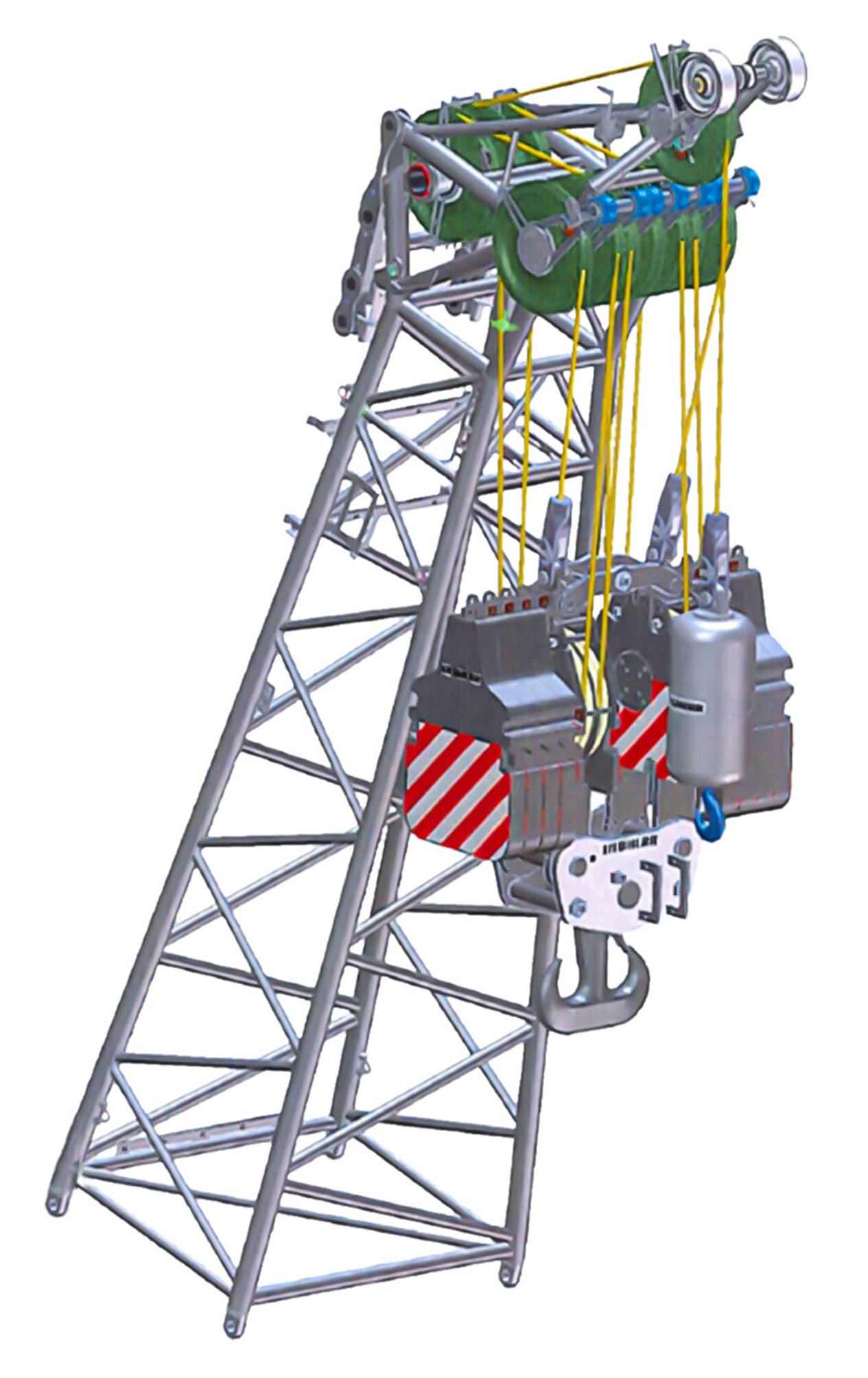 One very important point is that the jibs must be lightweight to enable great system lengths to be raised. This is why the guy rods in the form of stationary aramid fibre guying ropes have now become standard at Liebherr for fixed jibs. The prerequisites for satisfying customer requirements include fine-grain structural steel with a high yield point and, of course, weight improvements at the areas at which force is applied.
The new fixed jibs are designed for both single and parallel use. Limited rope length is then no longer a problem as two winches can work at the same time over the jib. In parallel mode, a particularly wide hook block prevents the block twisting. A tilt sensor ensures that both winches automatically operate synchronously.
And finally, the whip line is already integrated on the end section of the fixed jibs to reduce weight. It has its own load measuring system to increase safety in 2-hook mode.
The fixed jibs on our new lattice boom cranes have set a standard which takes into account the rising requirements of the market. Top performance, in other words.
This article was published in the UpLoad magazine 01 | 2022.