The first ever LTM 1300-6.3 has been delivered
Unthinkable in the past. But our brand new LTM 1300-6.3 can do it. And it can do a whole lot more. We have packed our new model with just about everything that makes a crane operator's heart beat faster.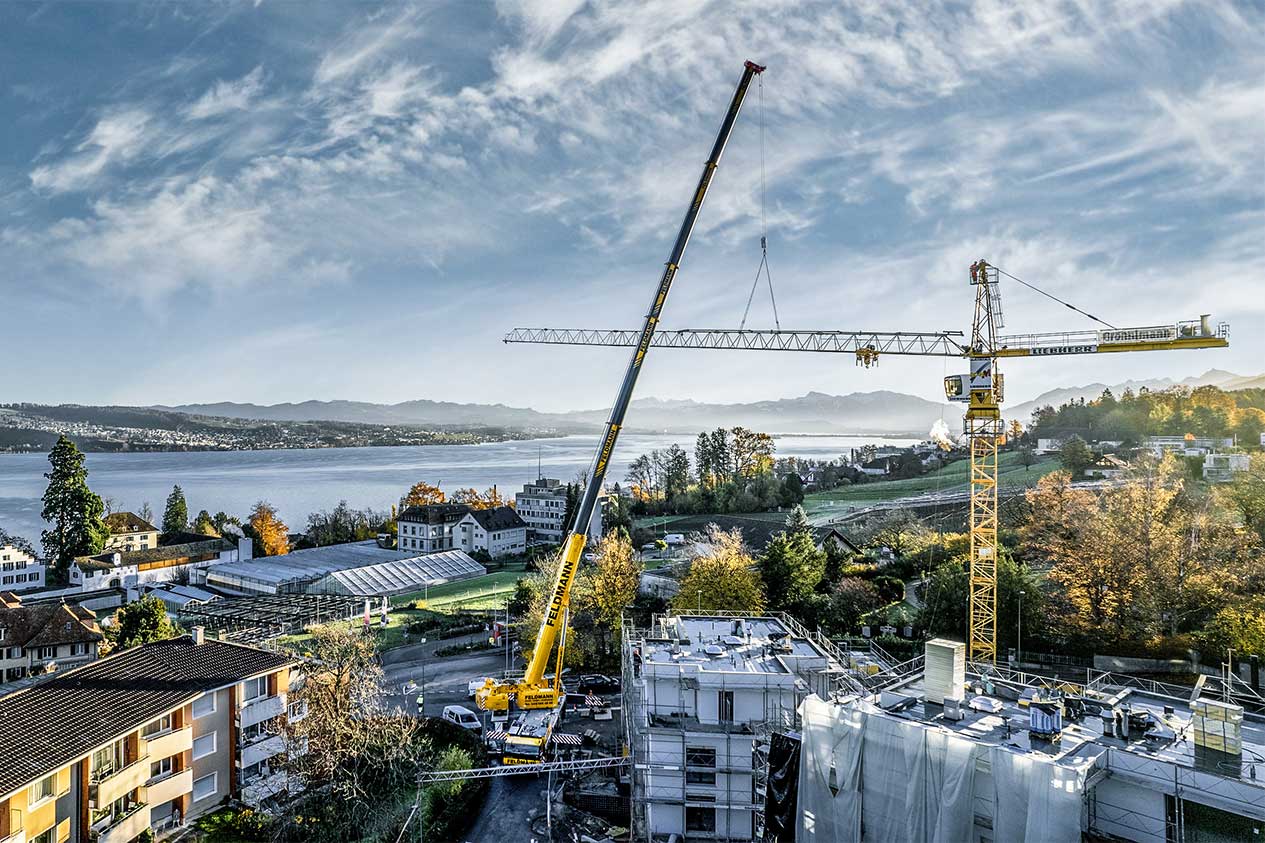 At last, we were ready by the end of November – the first of our new Liebherr LTM 1300-6.3 mobile cranes passed through the gates at the Liebherr plant in Ehingen and set off on the trip to its buyer in Switzerland. Its precise destination was Feldmann Pneukran + Transport AG based in Bilten east of Lake Zürich. The company, a long term Liebherr business partner, did not shillyshally and immediately carried out a trial using its new purchase. Right at the top of the immaculate 300 tonne mobile crane's to-do list were two dismantling jobs for construction cranes. The new crane completed both jobs swiftly and to everybody's satisfaction – or actually, to everybody's delight.
I've sat in a few cranes in my time, but this one is the absolute tops
"I've sat in a few cranes in my time, but this one is the absolute tops", said a very enthusiastic Patrick Geyer. The crane operator was in control of the LTM 1300-6.3 on both sites. The combination of man and machine made its debut in Regensdorf near Zürich. An enormous top-slewing crane with components with a gross weight of up to 12.6 tonnes and a radius of almost forty metres had to be dismantled. But there was no set-up area for the mobile crane anywhere close to the construction crane on the massive site. As far as Patrick Geyer is concerned, this demonstrated how well his new machine is designed for this work and how stable the chassis is. "When it was hoisting really heavy components, my crane on its outriggers didn't move a millimetre. Even though the machine is getting towards the limits of its lifting capacity, you don't feel a thing. It's rock solid." This dismantling job used 70 metres out of the total of 90 metres of telescope length. The LICCON control calculated the perfect configuration of the individual telescope sections for the load. This can be seen very clearly on the double-page spread on the previous page.
90 metre boom length impressive
Whilst Geyer was busy dismantling the construction crane, we also came across Konrad Schönenberger at the enormous site. He is an experienced workshop manager at Feldmann and was previously a crane operator for many years. He travelled from his repair centre at Schmerikon for the new 300 tonne crane because he was curious to see the first ever LTM 1300-6.3. 24 years ago, he was actually the first person to sit in the cab of the then prototype of the LTM 1300-6.1, the predecessor of the new crane. "That was in 1999 when I worked for a company called Bollhalder. At the time we had to place a wooden bridge over a river", recalls Schönenberger. "My crane had a 60 metre boom. And now it's a massive 30 metres more – that's really incredible. And the new crane actually looks quite a bit more filigree."
On our latest product, however, we did not just work on the length of the boom of course. The clever overall design of this machine, which only requires two additional transport vehicles for the ballast, makes the LTM 1300-6.3 a genuine fast-erecting crane. The 90 metre boom it carries is ideal for erecting construction cranes and working on high buildings or plants. And if the mega-boom turns out to be too short for a job, hoist heights and radii can be drastically increased using hydraulically adjustable lattice jibs, which are up to 43 metres in length.
Simply sensational
"It can also hoist loads of up to 80 tonnes using the set of sheaves it carries. And this also enables it to move smaller loads very quickly", explains Florian Brunner from our Product Management team. "That is made possible by the high line pull of 12.2 tonnes, which we managed to achieve with the crane. With the LTM 1300-6.3, we also ensured that the width of the basic ballast at three metres does not project over the chassis. This is often a major benefit if the crane has to be moved on site", adds Brunner. And another benefit at constricted sites: "The manually adjustable VarioBallast® delivers a radius of less than five metres in its minimum configuration. If space is at a premium, this is an immense benefit for slewing and unique on cranes in this lifting capacity class." The trapezoidal VarioBase® Plus support system and the WindSpeed load charts with the load charts adjusted to high wind speeds are a couple of additional major features which we have also packed into the new mobile crane.
In any event, Feldmann's innovative, compact power pack completed the two jobs on the banks of Lake Zürich with consummate ease. Patrick Geyer summed it up perfectly afterwards: "It is sensational to drive on the road and can be ballasted very quickly at the site. I find the crane control extremely good as the load can be moved with great precision, even when using a long boom. I am also positively surprised by the crane's handling and speed."
This article was published in the UpLoad magazine 01 | 2023.