Refrigeration and Freezing
Liebherr's Refrigeration and Freezing product segment posted sales of € 1,007 million in the 2020 financial year. This corresponds to an increase of € 24 million or 2.4 % year-on-year.
Development compared to previous year

Turnover in € m
from 983
( + 2.4% )

0

Investments in € m
from 51
( - 25.5% )

0

Employees
from 6,190
( + 1.7% )

0
Turnover by sales regions
Central and South America

0.1%

Africa, Near and Middle East

1.0%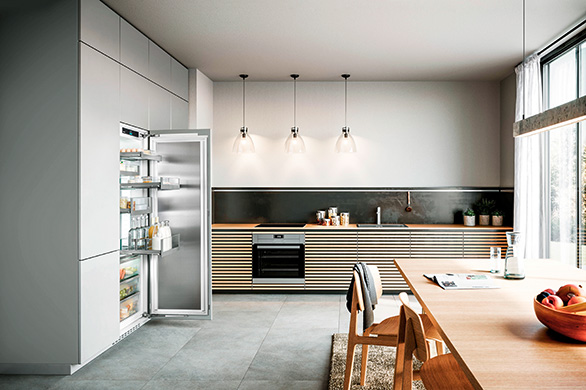 Demand in Europe remains stable
The global market for large home appliances saw a slight overall decline in the reporting year. In spite of this, sales of Liebherr refrigerators and freezers were up on the previous year's level. Demand for appliances for private households increased slightly, especially due to the growth in demand for freezers. In the commercial sector, demand was down due to a lack of investment readiness. Meanwhile, demand from the laboratory services sector increased.
The Refrigeration and Freezing product segment achieved growth in Europe, with particularly favourable results in Germany, the Netherlands, Austria and Russia. However, there was a slight decrease in sales in Africa and the Near and Middle East. There was also a decline in Asia and Oceania, for example in India. On the other hand, the results from China were highly positive. Sales also declined, in some cases significantly, in North America, Central America and South America.
The close collaboration between the "Digital Hub" and the sales and service department allows Liebherr to respond even more effectively to market changes and changing customer needs.
World premieres and the "Digital Hub"
In 2020, Liebherr unveiled an array of new technologies and products at the world's largest kitchen trade show, "Küchenmeile". The new generation of integrated refrigerators and freezers was showcased at the show under the product line "Fully Integrated". The global debut of the new BioFresh feature "HydroBreeze" was a highlight. The innovative technology produces a cold fresh mist every few seconds when the door is open so food stays fresh even longer. This concept was inspired by nature and is based on a weather phenomenon that occurs on the west coast of America in a fertile valley surrounded by desert. Furthermore, the Group launched its first ultra-low-temperature freezers, which are specially designed to be used in research laboratories to store samples and vaccines.
A significant amount of the development work over the reporting year was devoted to digitalisation, with smart monitoring a key area of focus. Investment was primarily directed at the production facilities and modernisation of the online store and configuration tool. In October 2020, the new office building for Liebherr-Hausgeräte Vertriebs- und Service GmbH was opened in Ulm (Germany) after one year of construction. It is also the home of the global digitalisation team, the "Digital Hub". The team is responsible for driving forward a range of future-focused digital projects.
Liebherr expects to achieve moderate growth in sales in the Refrigeration and Freezing product segment in 2021.