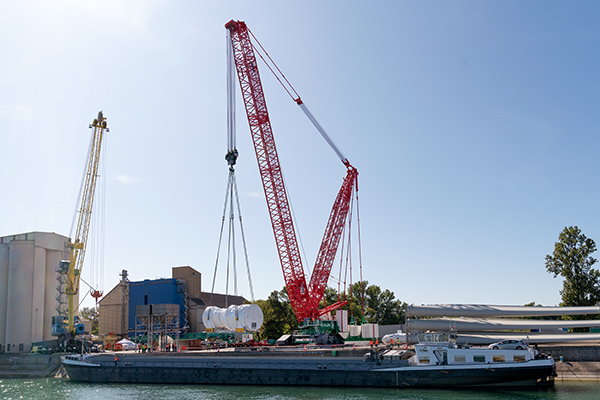 Make 500 into 1
The green, white and red LR 11000 has been an impressive sight on the quayside at Neuf-Brisach for several months. The new power pack operated by transport and heavy haulage logistics contractor Scales was officially commissioned in September. A festive ceremony was held at which Colmar Chamber of Trade started its activity with "heavy goods" at the Colmar / Neuf-Brisach Rhine port. Sophie Albrecht, family shareholder at Liebherr-International AG, also attended the celebrations.
LR 11000 enables the River Rhine to be used
The location of the Rhine port means that the new crawler crane can handle large gas turbines manufactured at the General Electric (GE) plant in Belfort, France. In future, the enormous gas turbines, which weigh up to 450 tonnes, will be loaded here for onward transportation on barges. To date, Scales' special trailer for transporting the enormous turbines, which is over 100 metres in length, is towed by two tractor units and has a total of 28 axles, has had to travel almost twice the distance to Strasbourg. Although there is a gantry crane there with an impressive lifting capacity of 460 tonnes, it actually consists of two equal hoist units. If, as with the most recently loaded turbine, a component with a gross load of 450 tonnes and an extremely decentralised centre of gravity has to be handled, one of the hoist units in Strasbourg would actually be overloaded.
However, these gigantic turbines pose no problems at all to the new Liebherr crawler crane in Neuf-Brisach. Asymmetric loads can be lowered into the required position in the barge's hold using lifting tackle of different lengths. The LR 11000 will now be stationed permanently at the Rhine Canal with a 66 metre main boom and a derrick boom for loading particularly heavy piece goods. The new crawler crane will be supported by an existing LHM 280. This mobile harbour crane, with a maximum radius of 40 metres and a capacity of 84 tonnes, is used at many inland ports as a cargo handling crane for vessels up to the Handymax class.
The route using the Rhine from Colmar will reduce the transport distance by 500 kilometres - we no longer have the road transport through France, Germany and Belgium to the Atlantic ports.
New transport option for Liebherr in Colmar
In the future, components for wind turbines will also be handled by the new Scales crawler crane, as will heavy machine components for mining equipment and hydraulic excavators from the Liebherr plants in Colmar, Alsace. Since June 2019, Liebherr-Mining Equipment Colmar SAS alone has shipped loads weighing more than 6,000 tonnes, which corresponds to 34 machines on 11 ships using this new transport option. The Mining Division in Colmar manufactures large hydraulic excavators with an operating weight of up to 800 tonnes and small trucks with a gross weight of around 180 tonnes.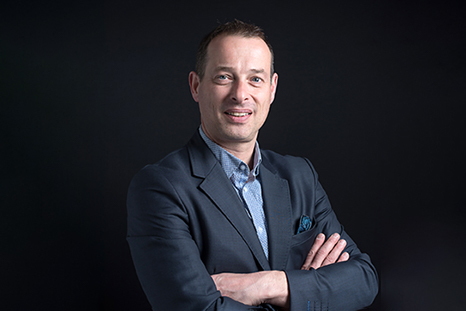 Some components of these mining machines are up to 19 m long, 5 m wide and over 4 m high – and can weigh up to 100 t. These machines are pre-assembled in parts and shipped by Colmar via European deep sea ports to large mining operations in Australia, Africa and Asia. The machines then undergo final assembly on site.
The effects on the environment are massively positive. Using the River Rhine has already enabled Liebherr in Colmar to save around 100,000 kilometres by road and up to 160 tonnes of CO2. The vessels use less energy than road transport and their CO2 emissions are on average four times lower than travelling by road. What is more, the river has an accident rate of almost zero, making it an extremely safe transport route.
This article was published in the UpLoad magazine 02 | 2019.