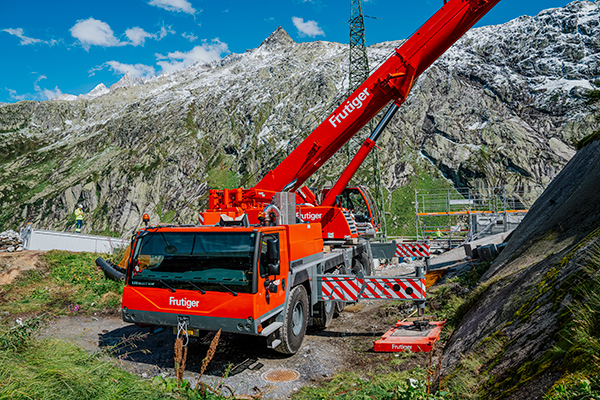 A large crack, which covers almost the entire area of the old "Spitallamm" dam wall and splits the structure vertically into two segments resulted in the project for the new dam wall being created. Completed in 1932, at one time the Spitallamm was the highest dam wall in Switzerland at 114 metres from its foot to its coping. Concerns that the old wall would be unable to withstand the water pressure from the reservoir at Grimsel Pass if there was a powerful earthquake, led the developer, Kraftwerke Oberhasli AG, to start this ambitious project, with the new dam scheduled to be completed by 2025.
Swiss construction group Frutiger AG based in Thun is the lead contractor for the project, heading a consortium involving several companies. Liebherr mobile cranes and MK mobile construction cranes from the company's fleet are frequent visitors to the Alpine site. An LTM 1130-5.1 worked its way up from Aare valley near Meiringen, around tight hairpin bends to the reservoir to build a container village on a rocky plateau between the two barrages on the glacial reservoir. The modern mobile crane was commissioned by Frutiger at the start of the year, replacing a nine-year-old LTM 1100-5.1. The Vario-Base® variable support system on the new crane was extremely useful for this high altitude job because the very small set-up area for the vehicle meant that it was not possible to extend all the outriggers in full.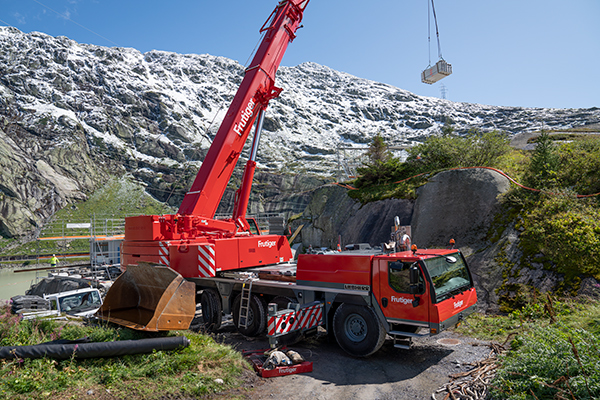 A total of 60 residential containers were positioned precisely by crane operator Heinz Wittwer and his mobile crane in just three days. Radii of up to 47 metres were required for this purpose. 40 workers will move into their temporary accommodation after the winter break (no work will be carried out on the site during the snowy season).
The scheduled six-year construction period will be one year shorter than was required to construct the original massive dam wall at Grimsel Pass. Instead of around 600 people who worked on the old dam, the new project will require only around 100 specialists. As an aside, one advantage of building a new dam rather than refurbishing the old one is that the reservoir does not have to be drained at any time during the construction work, which means that power generation will not have to be stopped. Grimsel reservoir is supplied by glaciers and holds a volume of around 100 million cubic metres of water.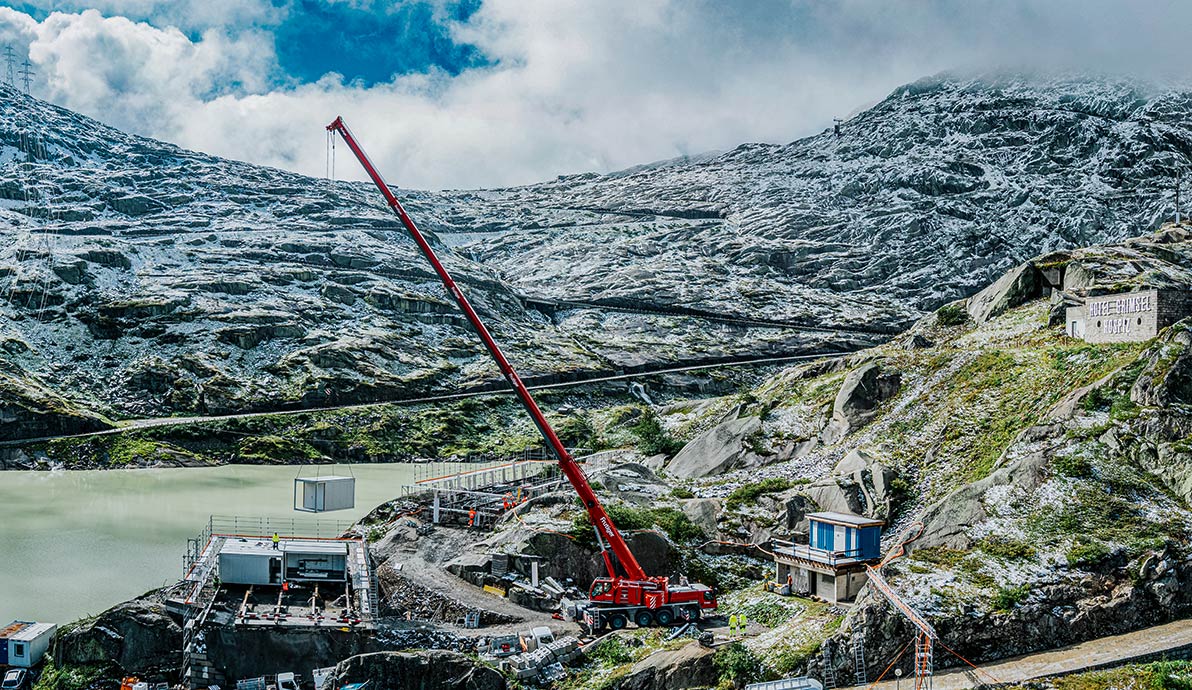 This article was published in the UpLoad magazine 02 | 2019.