We were very warmly welcomed by our American colleagues, led by Lisa Bozzi, the event manager at Liebherr. Gaining our first impressions of the Saline site, we started our programming course with the eight participants from Saline High School. Their task was to write a PLC program with the aid of TIA software.
This program was then transmitted to the PLC control system in order to control the loading portal. To do this, we had to instruct the pupils in the construction and operating principle of the loading portal and of the TIA training unit. The participants were particularly motivated by the practical relevance of working on the loading portal – a system which is also a central component of our training in Kempten.
We were surprised at how ambitious the individual teams were in solving the tasks; they didn't become discouraged if everything did not go right straight away. They were all the more motivated when things finally did work. However, we benefited just as much from passing on the specialist context of automation technology to the pupils in English.
Exciting tasks and good supervision
In addition, we were able to accompany various real projects in the LGT / LAU and give our colleagues positive support – for example, in the conditioning and commissioning of two gear hobbing machines which were overhauled as part of the REMAN program, including switching to new control software. Our cooperation with Liebherr Aerospace Inc. in Saline was equally interesting. Here, we helped with the conditioning of cooling units for charging stations for electric cars.
There was a lot to discover during our free time. Various leisure activities such as bowling, barbecues, trips in amphibious vehicles and military vehicles and, of course, sightseeing were on the agenda. A highlight was a visit to the soccer test match between FC Barcelona and SSC Naples in the Michigan stadium, the largest football stadium in the USA. We were also particularly impressed by the "Sleeping Bear Dunes," giant sand dunes at Lake Michigan, and the view from the 103rd floor of the Willis Tower, the highest building in Chicago. Our final weekend took us on a spectacular trip to the Niagara Falls in Toronto, Canada, which we explored on foot and with a harbor tour.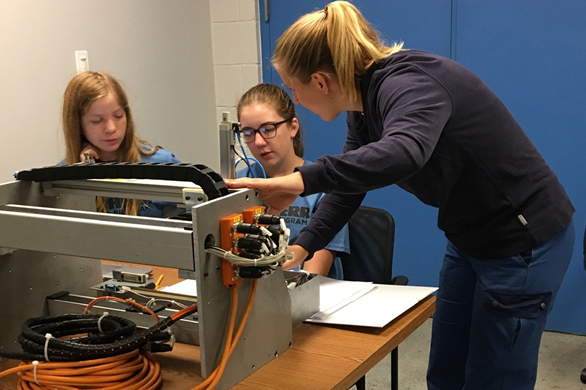 "Every trainee should take up this opportunity"
In summary, I can say that our foreign deployment in the USA was a complete success for me and my colleague Julia. As well as the many interesting impressions, it was an exciting experience to give the pupils at Saline High School a small insight into the world of automation technology. Our thanks go to Liebherr for the great organization of this extraordinary internship. I hope that Liebherr continues the Summer Program in subsequent years, because it provides enrichment in many ways for both sides. I can only recommend that trainees in subsequent years take up this unique opportunity.