"The MyLiebherr online portal is your access point to the Liebherr service world."
That is the description of the new customer portal on the company's website. Extensive service and a wide range of additional offerings for construction machines, mining, mobile and crawler cranes, handling technology as well as maritime cranes are now available to customers using this platform. Manuela Kovacic and Oskar Thanner, who work in the Customer Service Department at Liebherr in Ehingen, explain what MyLiebherr is and what you will be missing if you do not use it.
What exactly is MyLiebherr?
Manuela Kovacic: MyLiebherr is an online customer portal which is available to Liebherr customers at any time and in any place. After operators have registered their Liebherr machines in the system using the factory number, they can find any spare parts they need very easily and order them in the portal.
Oskar Thanner: Another helpful function is the facility to download all the documentation included in the package with all our machines in digital form using MyLiebherr. There are also other useful applications, such as exchanging large volumes of data between Liebherr and the user. Even the LICCON work planner has been included in the online portal.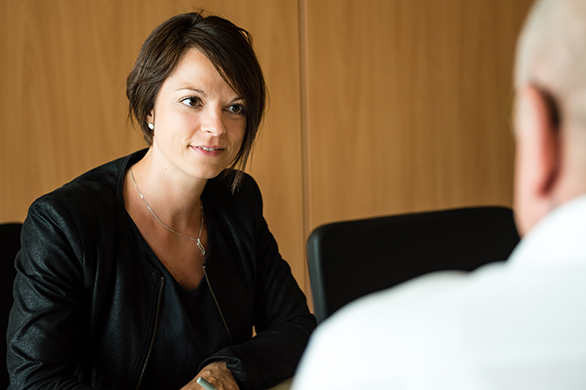 When was MyLiebherr launched?
Manuela Kovacic: The new portal went live on 1 July 2017.
Why was MyLiebherr developed in the first place?
Oskar Thanner: MyLiebherr was developed to replace the previous portal P@rts24 and provide our customers with even better online service and additional applications.
It was an attempt to meet the needs of our customers for an online ordering portal to enable them to order spare parts on the basis of the current spare parts catalogue together with relevant information such as prices and availabilities. The previous system had restricted functions and, I must admit, was a little awkward to use.
Since when have mobile and crawler crane operators been able to use MyLiebherr?
Manuela Kovacic: Our mobile and crawler crane customers have been able to use MyLiebherr from the very beginning, in other words since the portal went live on 1 July 2017. Every operator who had registered in P@rts24 by the end of June 2017 was automatically transferred by Liebherr to the new portal – including all their machine data.
What benefits does the portal deliver for crane operators?
Oskar Thanner: It is particularly important for users to have access to the latest spare parts documentation for the machines online at all times using machine-specific parts lists. If the machine equipment has been changed, for example by a modification or retrofit, the documentation be updated automatically in the system. That means that all prices and availability information are always up to date.
Manuela Kovacic: MyLiebherr is a portal for all Liebherr product segments. Naturally, that is a major benefit to those customers, who operate mobile cranes, tower cranes and perhaps also earthmoving machines. The fact that all the different applications can be opened from the same interface makes the whole thing extremely practical.
The "Connected Companies" function has been specially created for companies with multiple sites. This gives authorised personnel in the system access to the machine data at all the company's sites. A complete self-administration system enables customers to issue the required authorisations to the appropriate personnel.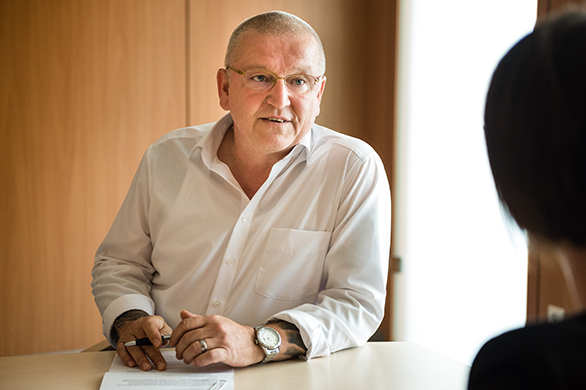 Oskar Thanner: Export and import functions in the spare parts catalogue and in the shop enables our customers to transfer the data to their own systems, for example to process a shopping cart in their own ERP system. Some users manage parts using Excel tables and can then import these into the shopping cart within MyLiebherr. That eliminates the need for inputting data multiple times and automates the processes.
I would also like to mention the central benefits of the digital spare parts catalogue for individual machines – the search function is extremely user-friendly and frequently required parts can be saved as favourites. Notes and attachments such as images or documents can be filed for each machine, module or part. In addition, there is a precise zoom function for parts with drawings to ensure that every detail can be identified – right down to the smallest screw. The export function is another plus point, as it can be used to provide drawings and parts lists from other systems in a wide variety of formats.
How do you get access to the system?
Manuela Kovacic: After registering on www.myliebherr.com, our IT department will carry out a check which will take between one and two working days. After this, the customer must request a business relationship from a service partner online, register their machines and will then have full access to the portal. The service partner is his existing contact – generally the local Liebherr company or dealer.
What are the costs for MyLiebherr?
Manuela Kovacic: MyLiebherr is free of charge to our customers. Inside the portal, however, various optional applications are available for which our customers can purchase licences, for example the Crane Planner or Crane Finder. These functions are currently still under development.
Where can users find help if they experience problems with the system?
Oskar Thanner: Generally from their long term service partner. And if they cannot help, the experts at Liebherr in Ehingen will get involved.
To sum up: What are customers missing if they are not yet using MyLiebherr?
Oskar Thanner: A great deal! MyLiebherr users benefit from enormous time savings in their daily processes relating to their machines and can place their orders and request quotations anywhere and at any time, even outside of business hours.
This article was published in the UpLoad magazine 01 | 2019.