Interactive end-of-year review
Just great - down to the last detail
It is a project of superlatives: with a lifting capacity of 5,000 tonnes and a maximum lifting height of more than 170 metres, the HLC 295000 is the largest offshore crane ever developed by Liebherr. In order to meet the specifications for the hoisting application, Liebherr's Components division equipped the Heavy Lift Crane with specially developed large-rope winches and its most powerful slewing drives.
New material: carbon-fibre reinforced plastic
At Bauma 2019, the business unit hydraulic cylinders presented the use of carbon-fibre reinforced plastic (CRP) for the first time. This fibre offers significant savings potential for hydraulic cylinders as well as for many other components where weight matters for increasing the efficiency of the end application. At a customer event focused on lightweight solutions our specialists as well as external guest speakers presented a wide range of possibilities offered by using this innovative plastic.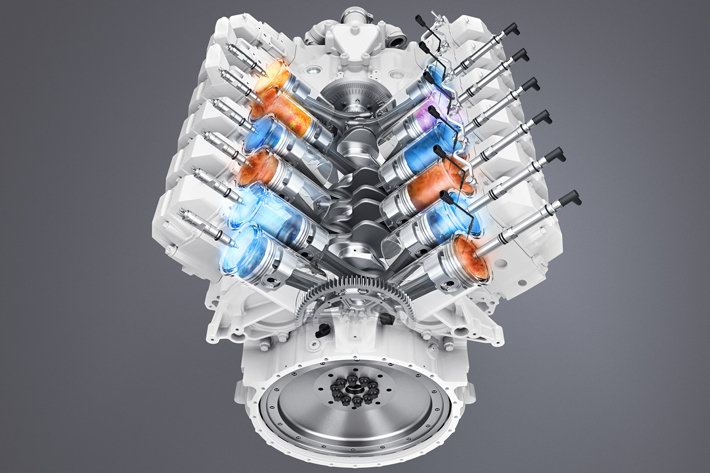 Engine highlights
To comply with the EU Stage V emission norm, Liebherr has supplied all of its engines destined for the European market from 120 kW to 560 kW with the Liebherr SCRFilter system and its engines above 560 kW with an SCRonly system, starting from January 1st, 2019.
Great progress has been made in the development of the D98 Series: the field tests for the V12, which are currently ongoing, show great results. And the V16 engine was presented for the first time at Bauma.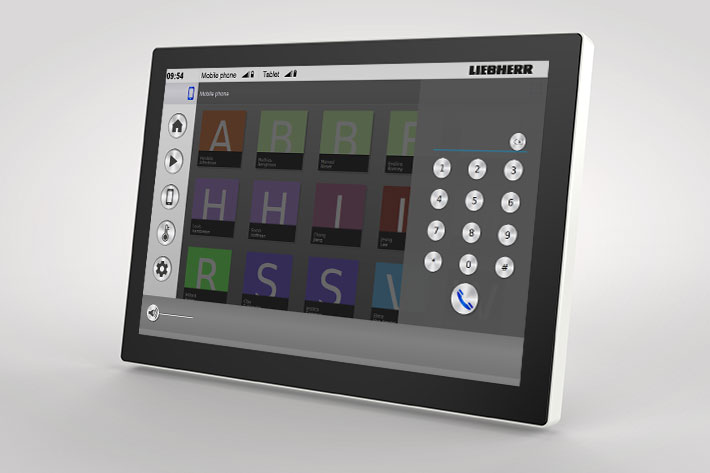 DC5 display controller family
At Bauma 2019, Liebherr presented the DC5 family - the latest generation of Liebherr display controllers. The powerful portfolio comprises 7, 9 and 12-inch variants with high-resolution displays. The DC5 offers an ideal platform for further customisation. It can be utilised for a wide range of applications – for example as display, control computer or input device.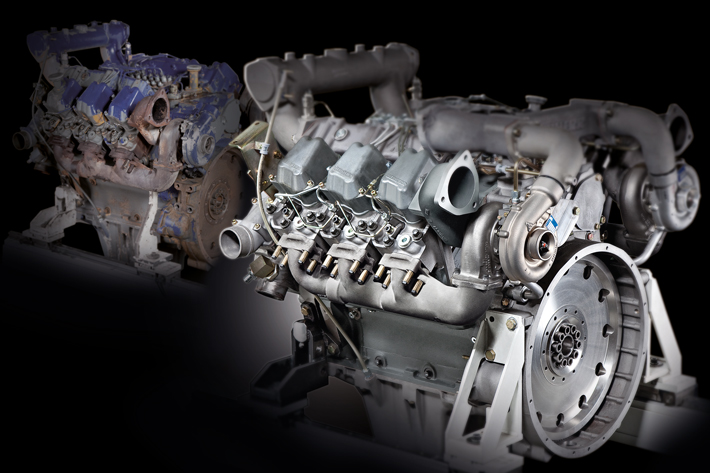 Expanded portfolio of Reman services
In 2019, Liebherr-Ettlingen GmbH started with the remanufacturing of emission level Stage IV diesel engines within the framework of the overall Reman program.
Liebherr now also guarantees an overhaul within 48 hours for a fixed preference portfolio of hydraulic cylinders to provide an optimised machine availability at the construction site.
New series 20 of the medium pressure pump LH30VO
At Bauma 2019, Liebherr presented the series 20 of the medium pressure pump LH30VO. The product family for the open circuit, with a nominal pressure of 280 bar and a maximum pressure of 320 bar, is available in the sizes 28, 45, 85 ccm. The series 20 was developed as a modular system, consisting of a modular range of controls as well as a highly flexible through-drive concept, which even shines when built-in.
Slewing bearings up to 9.5m in diameter
In 2019, Liebherr expanded its portfolio to include slewing bearings with diameters of up to 9.5 metres. The rings for bearings of this size are made from one piece and are used wherever installation space and weight play an important role. Their higher corrosion resistance compared to segmented bearings of the same size predestines the bearings for use in extreme environmental conditions.
Exceptionally high nozzle flow rate
In 2019, Liebherr injection systems were particularly successful with compact injectors that deliver high performance per cylinder. The compact LI2 injector with 9 mm nozzle enables exceptionally high nozzle flow rates of up to 2,600 ml/30 sec and thus covers a unique performance class of up to 180 kW/cylinder for off-road high-performance engines. This unrivalled solution already convinced the third major international engine manufacturer of the quality of Liebherr injection systems.
Modular energy storage system
The new Liduro Energy Storage system LES 300 for highly dynamic industrial applications with high peak loads and variable power requirements achieves considerable cost savings and efficiency increases. In lifting and lowering applications in industry, transport and logistics, and generally in drive and control systems energy costs can be reduced by 20-40% through the storage and efficient use of recuperative energy. It was presented at SPS - Smart Production Solutions in Nuremberg for the first time.