Application technology
Behind the production of high quality gears are technological challenges. Liebherr therefore works continually on further developing innovative gear cutting technologies for its customers. Our experts support you around the world in all matters relating to application technology.
Process optimisation
Liebherr develops innovative technologies in the fields of gear cutting, gear shaping and gear grinding. In this way, the processes relating to the economic production of gearing can be optimised. Only when technology and tools are combined in the best possible way can customers fully utilise the possibilities of their machines. This applies not only in terms of the performance but also the productivity of the machines.
Technology support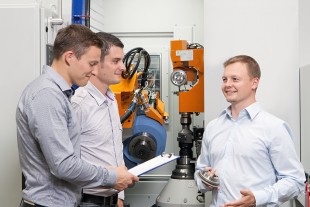 Throughout the world, we support customers on-site with questions to do with technology. The knowledge is imparted to customers by our qualified application technicians.
Technical support with process configuration
Selection of suitable tool systems and processing strategies as well as cutting data
Support during trials in customer factories, e.g. when new technologies are introduced
Analysis and assessment of technical processes at the customer's site
Optimisation of technical data, service life of tools and workpiece quality
Analysis of the cost effectiveness of processes
Troubleshooting acute problems in production