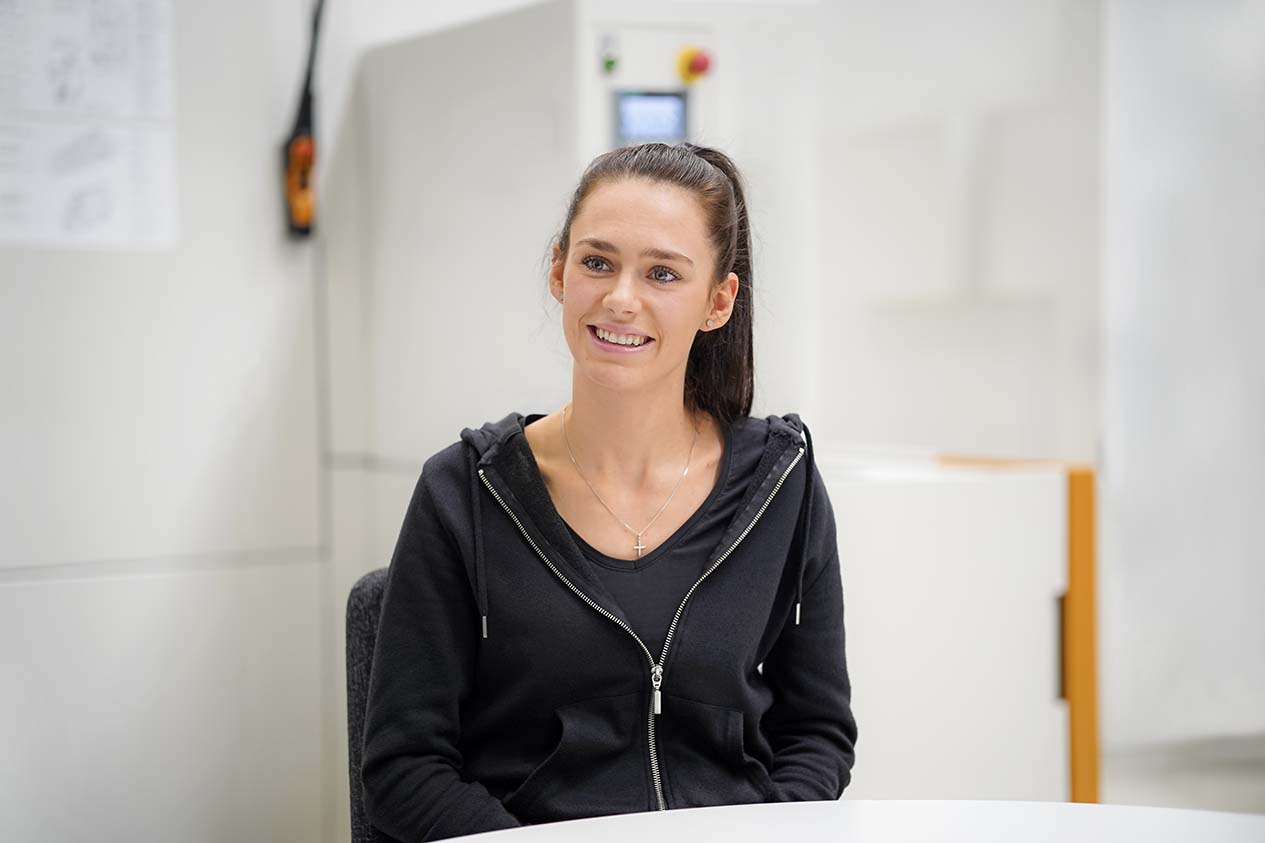 You both work on commissioning gear cutting machines. So, what do you do?
Lena: Simply put, we get new machines up and running for the first time. This means connecting and wiring up the machine, starting it up for the first time, setting the axes into motion and testing out the customer's automatic programs. And when doing so, we constantly monitor the machine and make sure it's working as it should. If there are any problems, we start troubleshooting. We make sure the machine operates safely and can shut down in time if there is an emergency situation.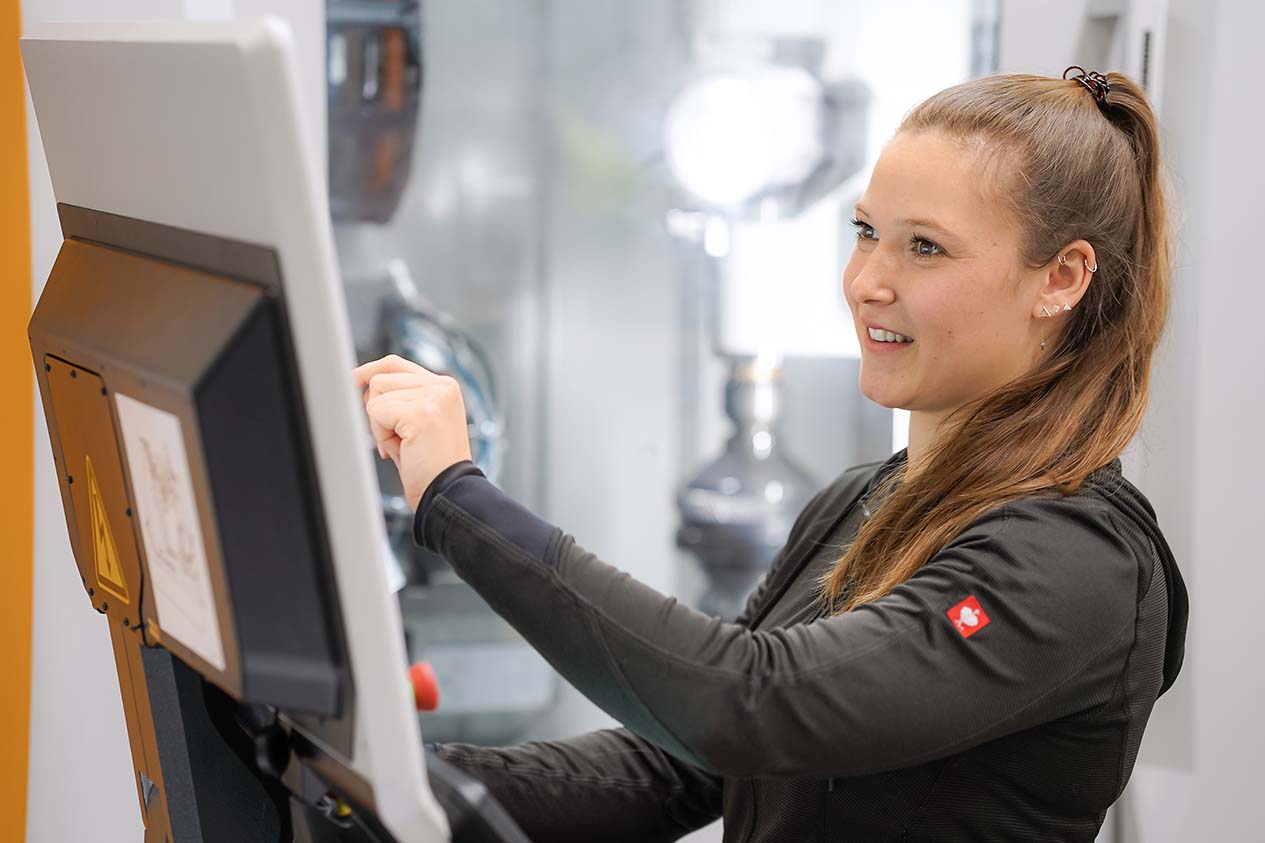 Vanessa: Every machine is different, which time and again presents us with new challenges. But that's what makes the work so interesting. If it were just predictable, it would be pretty boring. Technology is constantly moving forward and we can move forward with it.
Lena: For this profession a person needs to be adaptable and have a never-ending thirst for learning new things.
What inspired you to seek a career in technology?
Vanessa: I've been fascinated with technology since I was a child. My dad is a painter by trade and a gifted craftsman. He always brought me along to building sites and got me involved. This made me even more fascinated with technology. That's why I chose to move in a more technical direction even when I was at school. From the very start, I knew I wanted to work with my hands and create something.
Lena: It was quite similar for me too. I grew up on a farm, and since I was little I learned hands-on how to get things done. I guess I developed a sense for all things technical at an early age. At school I was particularly good at maths and physics, but the topic of electrics was my favourite in physics class. It's what motivated me to become an electrician. I wanted to pursue a career in something that involved technology and electrics and put my skills to good use.
How did you choose to work for Liebherr?
Lena: I was fascinated by the gear cutting machines as a product and wanted to work for a large company that could offer me good development opportunities. What really appealed to me was, despite being a large international company, there is still a "family" feel to the place. Liebherr also provides a great overall work package when it comes to salary, employee benefits, holidays and work hours. Our head of training at the time was also very persuasive (laughs).
Vanessa: Yeah, that's right. What really got me at Liebherr were the people involved. The job interviews were conducted in a really friendly, down to earth manner. After talking to the trainers I was even allowed to visit the educational workshop to speak with the trainees that were there. That experience gave me good insight into what Liebherr does and made a positive impression on me. And that impression remains with me to this very day. There is a great atmosphere in our department that makes us just want to be there.
Lena: I totally agree. We get along so well in our department that it feels almost like a little family.
How do you see yourself developing here career-wise?
Lena: I'm currently doing my studies as an engineer alongside my job. I want to deepen my knowledge of engineering and be more valuable to the company. When I get my degree I would like to stay in our department and work on bigger projects and involve myself in decision making on more complex challenges.
It's not always easy to work and study at the same time, but Liebherr sees to it that it can be done. I'm already one and half years into the three-and-a-half-year course. You have to study a lot, but they give me a few days off as vocational training leave for block lessons in my course.
What is it like working at Liebherr in the Commissioning department being a woman generally?
Vanessa: My every day work in Commissioning is pretty much the same as a man's. We work as a team and every person contributes with their own individual abilities. I feel valued and respected. As far as I have seen, men and women are seen as equals at Liebherr.
They already see to that when filling their posts. I think that's important and it should be the aim of every company: no preference or discrimination based on gender. Hopefully one day this will be the norm and no longer worth discussing.
Any ideas how the proportion of women in technical professions could be increased?
Lena: A huge part of it is finding a balance between family and career. Nowadays child day care is no longer just an issue for women, but it's still unusual that anyone can just jump back into work and give it their all just after starting a family. In many other professions you have the options of part-time work or reduced hours, but in the trade sectors this can be a bit more difficult. Many skilled female electricians or industrial mechanics move to office jobs with more flexible working hours.
Vanessa: Flexible work time models are essential to making skilled trades more attractive.
And in my opinion, we also have to actively confront the rigid gender roles in society. Little girls get dressed up in pink outfits and little boys get toy cars to play with. We shouldn't underestimate the impact that can have on their development. Everyone can contribute to changing this behaviour, whether within the family or in your group of friends.
Lena: Yeah, that's a good point. If we can break these stereotypes, we can inspire more women to pursue technical careers and get even more women in these workplaces.
What advice do you have for women and young women who are interested in technology?
Vanessa: You need to have thick skin in a man's world. Don't be put off when being spoken to in a direct manner. Men can be just as sociable as women (laughs).
Lena: I thinks it's down to societal expectations and norms that, still to this day, many women still find it daunting to take the career path towards technology. My advice is to believe in yourself and don't get discouraged. Women have a tendency toward self-doubt, but if you are passionate about technology, don't let that get in the way.