Crane designs are a thing for the boss
Our cranes encourage technically minded inventive people from all over the world to send us letters and ideas. And, with all Swabian humility, we are delighted to receive them. We received a very special letter and drawing a few weeks ago from Switzerland.
My name is Tim Neuenschwander, I am 12 years old and live in Utzenstorf. My uncle works at Toggenburger and I am often allowed to go with him to work with his crane. This experience has made me fascinated with mobile cranes. As I like drawing and designing, I decided to develop my own mobile crane. I worked on it for a long time and now it is ready. I had the idea that the cab and arm of the crane could be stowed inside the vehicle. This design would reduce the height of the vehicle and the crane would then be able to drive through low underpasses. I hope that my idea will help you to make Liebherr cranes, which are already good, even better. Best regards.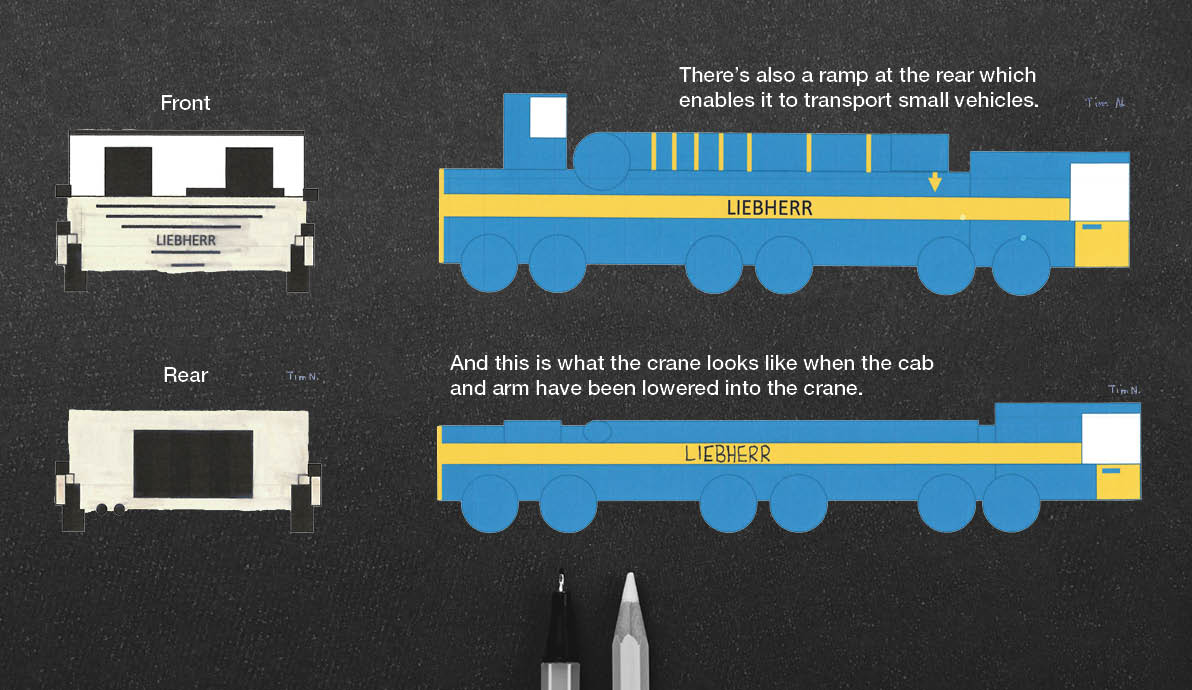 We really liked the letter and it contained a revolutionary idea – lowering the telescopic boom and the cab into the crane chassis. In other words, it was not just another cosmetic facelift, but a genuinely new concept. And you know what? These are exactly the people we need – fascinated with cranes, inventive and courageous enough to present completely new ideas.
So it will not come as a massive surprise that we decided we had to meet this young man. And since crane designs are a thing for the boss at Liebherr, our Technical Director, Dr Ulrich Hamme, decided to discuss it personally with Tim – on Skype to maintain the social distancing required in these strange times of the coronavirus.
Tim the crane fan was clearly delighted to receive a call from Ehingen. In fact, Tim knows a great deal about mobile cranes and accurately identified that compact dimensions are extremely important in practice. Dr Hamme confirmed this to him during their conversation. But he also told Tim: "Your idea presents our design team with some very big challenges. The chassis is full of essential components such as the engine, gearbox, outriggers and, of course, the structural steel components. What is more, the slewing ring, which guides the forces from the boom and turntable into the chassis, is right in the way."
Much more than just a drawing: Tim's thoughts on the crane of the future.
• The arm and cab are lowered into the space and when the arm and cab are raised again, it looks like a normal crane.
• It is all operated using a remote control.
• Drive engine: 8-cylinder engine
• Performance: 450 kW
• Top speed: 85 km / h
So it appears that it is, as yet, impossible to turn Tim's crane concept into reality. But we would never say never. And there have always been people who have had ideas which were ahead of their time. "Tim, we need advisers like you who always think about what could be done better. And who are not afraid of suggesting something which in practice might not be possible. Keep doing it and also keep asking your uncle how we could make his workplace better. Sometimes it is the little things that make a big difference", is how Dr Hamme encouraged the young crane designer.
And what does he want to be when he grows up? "Car designer, logistician or perhaps a policeman!" Well, this is one versatile young man who has plenty of time to make a decision. However, we already hope that he decides on the crane industry and comes up with plenty more courageous ideas. All the best Tim!
This article was published in the UpLoad magazine 01 | 2020.