Intelligent grabbing technology
The intelligent SmartGrip grabbing technology revolutionises bulk handling in ports. The self-learning system increases material handling performance and protects the crane from being overloaded.
The SmartGrip grabber technology is capable of optimising the filling rate of the grabber in a self-learning manner. In this way, SmartGrip learns after just five lifting cycles how to optimise capacity utilisation of the grabber even for less experienced crane operators.
SmartGrip combines a series of significant advantages in bulk handling. It reduces overloads to a minimum, increases the material handling rate and, at the same time, alleviates crane operator stress. With SmartGrip activated, the crane operator can rely on the system. Operators of older Liebherr machines can upgrade their existing cranes with this unique function quickly and easily.
Advantages of SmartGrip when handling bulk goods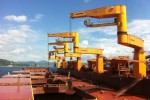 Liebherr MPG while bulk handling on a Floating Transfer Solution in Indonesia.
By installing the SmartGrip, the handling rate can be increased by up to 30% as the system utilises the grabber capacity in full.
Optimised grabber entry angle
Adaptation to the material being loaded – no grabber change required
Time and fuel saving
Liebherr LFS 550 mobile harbour crane ready for bulk goods handling in Puerto Coronel (Chile).
During unloading, the properties of the material can change as a result of pressure and moisture, which can lead to overload. Overloads impair the crane structure and can drastically shorten the crane's service life.
SmartGrip fills the grabber based on an optimum load graph
SmartGrip reduces overload and its effects on the crane's structure
Changing the grabber for different material densities is not necessary
Two Liebherr CBG 300 floating cranes on a bulk handling barge in Itali.
With SmartGrip activated, the crane operator can determine the desired grabber quantity manually and then rely entirely on the system.
Less stress for the crane operator
Increased safety thanks to automated grabber filling
Above-average handling output possible even for less experienced crane operators