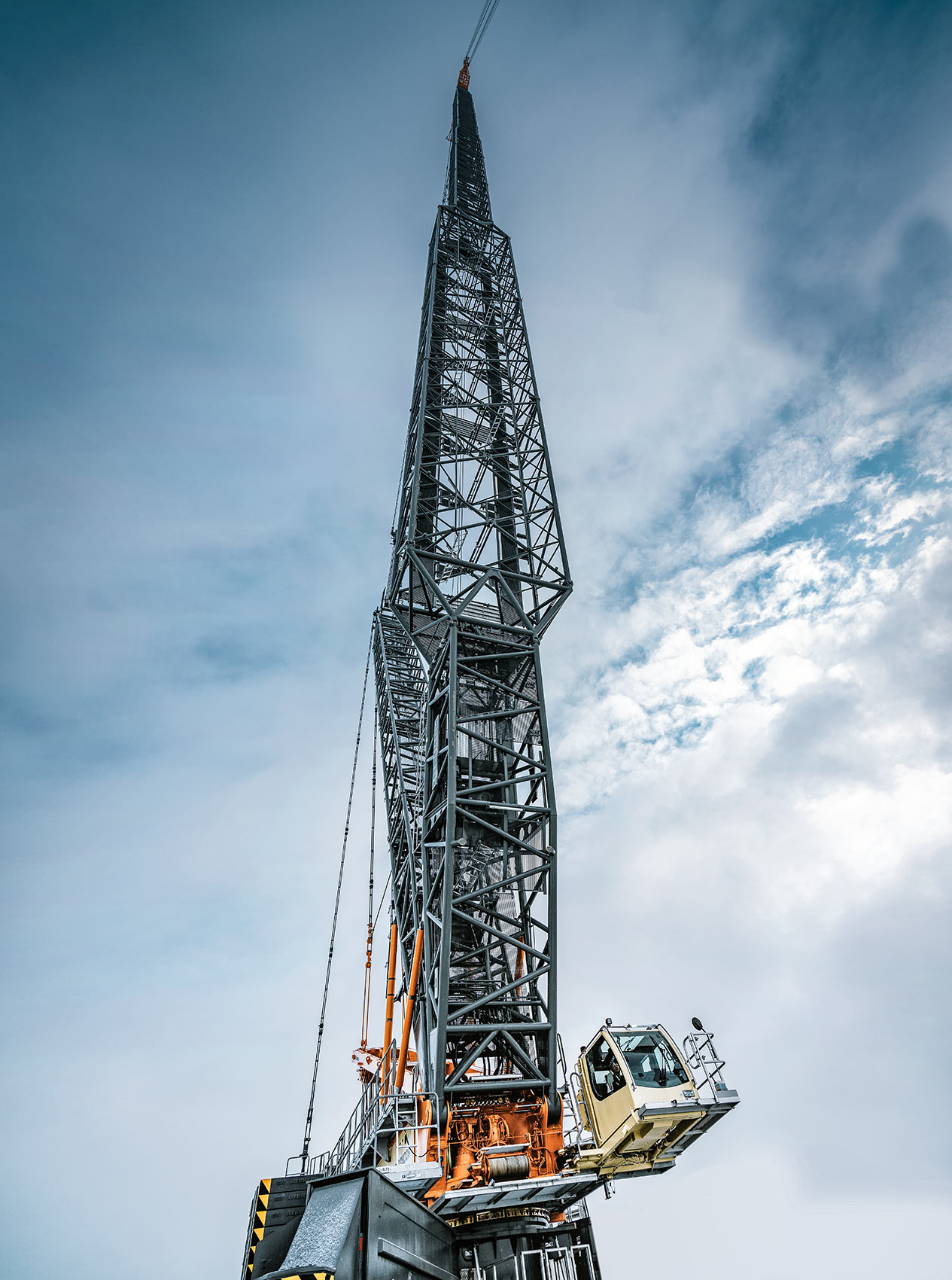 Double boom can withstand higher wind speeds
The reinforced booms are not only particularly helpful for wind power crane operations, but that is indeed their main purpose. The SX3 version delivers a major increase in lifting capacity of twenty percent and significantly higher wind tolerance compared to the conventional SX version. A new Liebherr LG 1750 crane, which was fitted with the SX3 version, benefited from these features whilst working at a wind farm in February. The lattice boom mobile crane operated by Dutch crane contractor M. Verschoor B.V. erected two Vestas turbines in the north-east of Germany with hub heights of 166 metres. Johan Bezemer, a seasoned crane operator at Verschoor, was also delighted with his new crane system.
"It's certainly not a punishment working with this crane," says the Dutchman delightedly after completing the first of two wind turbines at the site near the German-Polish border. Bezemer had travelled to Germany for this first job for the LG 1750 with three colleagues and a Liebherr mobile crane, which was used to set up and ballast the larger crane. The Dutch crane contractor owned by Maarten Verschoor had significantly expanded its crane fleet upwards with the purchase of its new Liebherr machine. The mobile lattice boom crane was supplied with the SX3 boom system which was required for its very first job at a wind farm to erect a new wind turbine type featuring extremely heavy tower components.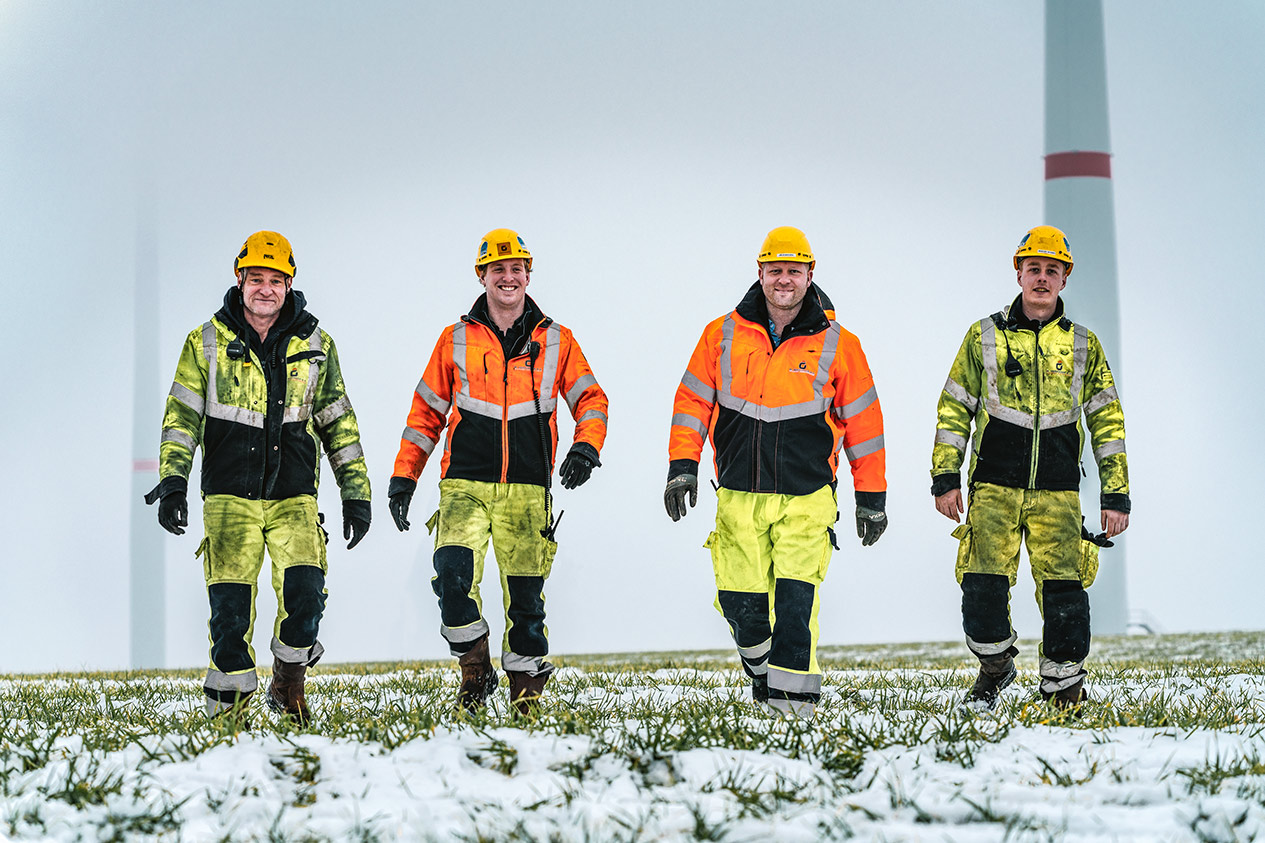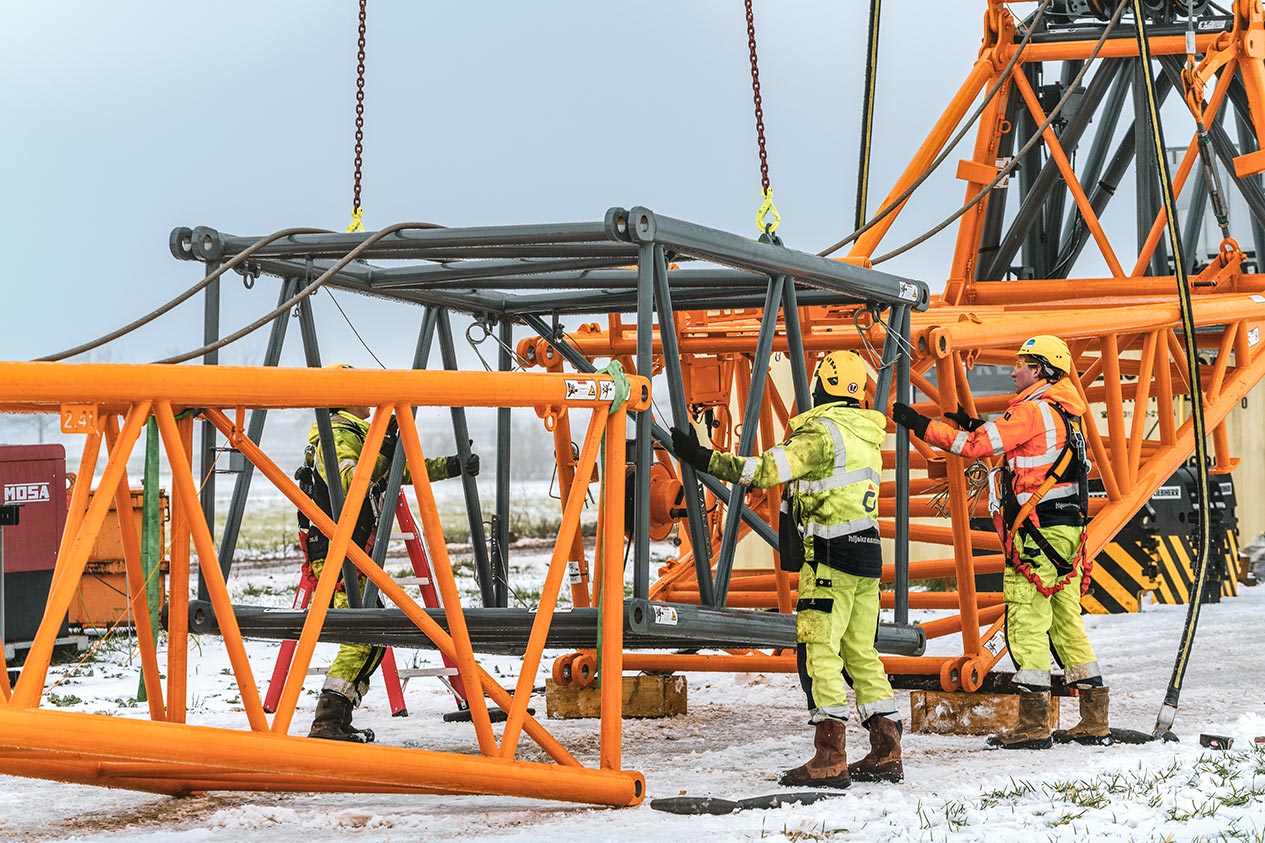 Tower segments weigh up to 120 tonnes
"The first four tower sections each weigh 120 tonnes. Together with the hook block and fastening equipment, that means a load case of around 123 tonnes. At a radius of 35 metres, that means we are using the full lifting capacity of the crane for this job", explains Bezemer. "This crane with its SX3 boom enables us to increase our capacities so that we can also erect these very large turbines", says Bezemer proudly about the new addition to the Verschoor fleet. "Its 165 metre main boom and twelve metre jib mean we have a lifting capacity of 127 tonnes. That is really enormous."
That is a massive benefit, particularly for cranes at wind farms.
"This boom system, on which the lower section of the lattice boom has been extended to a width of six metres, is not just a reaction to the ongoing increase in the weights of components and hoist heights for erecting wind turbines", explains Jens Könneker, Product Manager at the Ehingen-based crawler crane factory. "The 28 or 42 metre boom reinforcement (which is also fully compatible with our LR 1750/2 crawler crane) delivers significantly greater rigidity in the boom design and therefore results in less crane downtime due to wind. We calculated the previous systems used on the LG 1750 with a maximum wind speed of nine metres per second. The SX system now allows work to continue in wind speeds of up to 10, in some cases even up to 11.2 metres per second. That is a massive benefit, particularly for cranes at wind farms."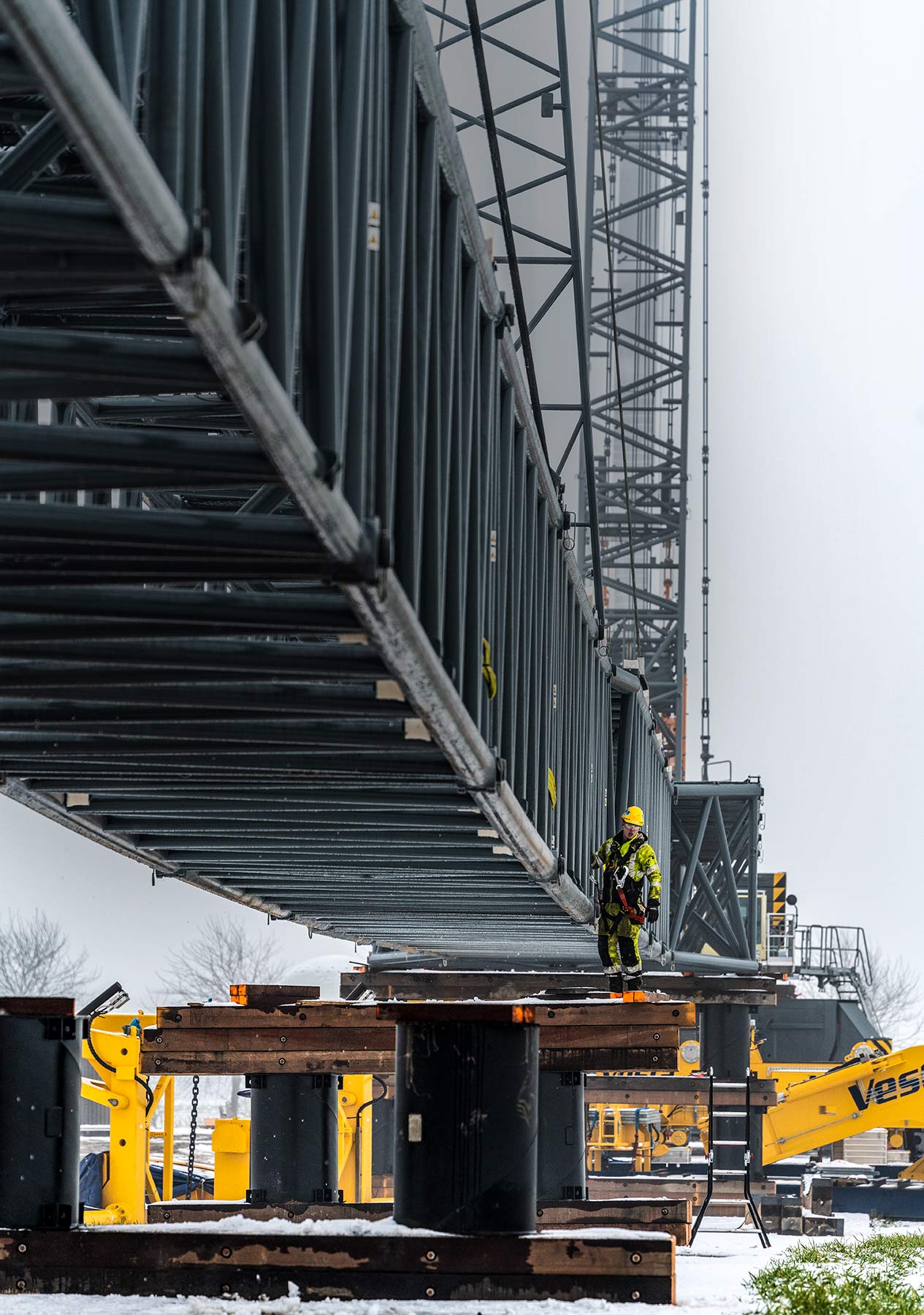 Higher wind tolerance saves three working days
The Dutch crane team travelled to the Vestas construction site in full knowledge of this benefit, which should not be underestimated. An initial look at the data on the wind gauge mounted at the top of the boom at an altitude of around 180 metres often provides the answer to the question of whether the crane is allowed to operate. "I reckon we saved a total of around three days in waiting time at this site as a result of this more powerful boom version," says crane operator Bezemer, totting up the hours in which the greater wind tolerance of the boom system allowed the crane to operate.
But Bezemer is also extremely happy with the practical handling of his new machine. "We set up the crane with suspended ballast and the VarioTray detachable ballast pallet. That saved us an enormous amount of time and effort", he says. After erecting the crane with 415 tonnes of suspended ballast, we simply had to remove the centre section using four pins, install the guide frame on the ballast pallet and we were then able to continue working without first having to stack or remove all the ballast slabs. It works brilliantly."
This practical feature, which has now become almost essential, also saved a great deal of time when the powerful long boom had to be adjusted. After all the tower segments had been installed, the lattice jib actually had to be extended to a length of 15 metres by inserting an intermediate section. Only then was the crane able to provide the required hoist height for the other components – including the gondola which weighed in at around 100 tonnes. The team from Verschoor required just two hours to modify the jib.
"Inside the crane is a great place to work"
The new crane is now the most powerful machine in Verschoor's fleet. "We will probably only use the LG 1750 for wind power jobs", says Erik Hans van de Kop, the company's Managing Director. After spending several weeks in Germany, his team travelled back to the Netherlands with their LG 1750. Since then, the crane has been working full-time on erecting wind turbines in the north of the kingdom using its SX2 boom. As a result of its full order books, Verschoor has since ordered another LG 1750.
M. Verschoor B.V. has a total of 70 cranes and 115 employees divided between its headquarters in Sassenheim (between Amsterdam and Den Haag) and a branch office in Almere. In addition to crane work, Verschoor also provides heavy haulage services and is active in the used crane and crane component business.
And because here at Liebherr we are not just interested in feedback from our partners but we are also always very happy to receive technical praise, we will give the final word once again to Johan Bezemer: "It's fantastic working with a brand new Liebherr crane! It's like sitting on a throne, simply brilliant. A really good place to work."
This article was published in the UpLoad magazine 02 | 2021.