I already have the miniature version of the LRT in 1:50 scale in my living room.
Finally. The time has come.
5 o'clock in the morning. The alarm rings. Danny Laible squints. He opens his eyes and is suddenly wide awake. Today is the day. He jumps out of bed, stretches and he's ready to face the day. A few minutes' drive later, he's arrived at his workplace. He works at Liebherr in Ehingen in the Technical Testing Department where he has been for the last ten years. Prior to that he trained here at the plant as an industrial mechanic. His love of Liebherr cranes started when he was a young boy. Over the last few years he has acquired a good deal of excellent technical expertise, trained as a mechanical engineer and is now adding to his knowledge every day at work. "We know the cranes from the wheels up. Nevertheless, every new development is something special. We come on board during the design phase. And when you then stand in front of the full-size crane in 3-D, that's when things really start moving." As he talks to us, Danny's enthusiasm for his job is really inspiring. "And now things are even more exciting than usual." The new Liebherr roughterrain crane is ready for off." Danny is standing in front of a behemoth with tyres as tall as himself. His colleague Julian Rapp is already sitting in the cabin with a grin on his face as he starts the engine. 264 h.p. roars out over the yard.
More power and safety for you
The behemoth is one of the two new developments which have expanded Liebherr's product range – an LRT 1090-2.1 with a lifting capacity of 90 tonnes. Not far from it is the next rough-terrain crane model up – the LRT 1100-2.1 with a lifting capacity of 100 tonnes. The basic technical concept of both cranes is identical apart from the boom and the ballast weight. They are powerful and robust. As the name suggests, their large tyres, six gears and powerful engine enable them to travel on any terrain.
"We had the courage to do something different and I must say the LRT cranes are fantastic!"
"It was particularly important to us to build a safe crane", says Danny Laible, who accompanied the crane on its journey from the drawing board. A crane which anybody on the site can operate without any problems. The VarioBase® variable support base makes an important contribution to this. In any position the crane controller calculates the current maximum lifting capacity and secures the crane operation using its integral load moment limiter. Furthermore, as a result of its increased lifting capacities for hoisting over the outriggers, the crane can actually perform hoists usually reserved for the next higher crane class. Ladders, grab handles and a platform provide all the safety required when working with the crane.
Greater convenience for operation and transport
And the Liebherr design team also took their time with the crane controls. They had to be clear, self-explanatory and safe. The result: The crane driver can concentrate completely on working with the crane and the load. "I feel really at home in the LRT crane cabin", says Julian Rapp, leaning back in his seat in the cabin of the LRT 1090-2.1. "As is normal for Liebherr cranes, the cabin can also be tilted backwards. That means that I can see the entire site and the crane", he explains. Additional equipment options such as an air-conditioned storage box, a USB charging socket and the 220 millimetres of extra space compared to other crane cabins also deliver more comfort.
And how does the crane get to the site? It is 3.87 metres high, 3.3 metres wide and weighs less than 55 tonnes with all its equipment. A low loader can manage that without batting an eyelid. If there are strict regulations for driving on public roads, the equipment can be removed. In this form a Liebherr rough-terrain crane weighs just 40 tonnes which means it can be transported at low cost to the ends of the world.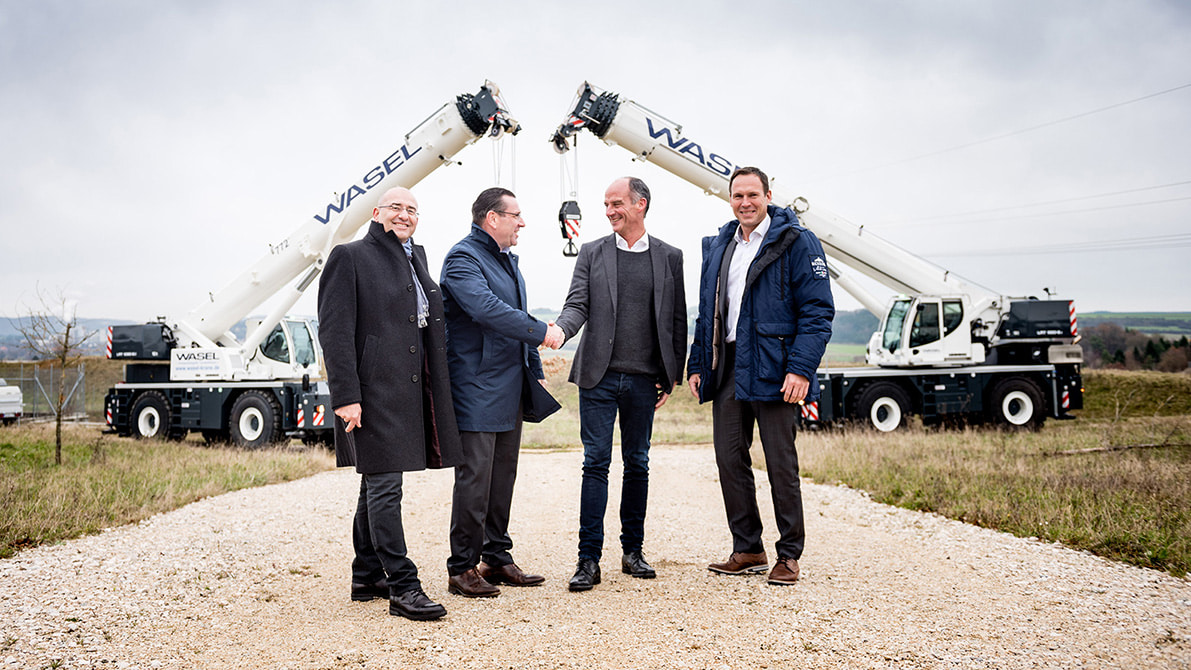 Delivery of the first LRT cranes
"We are delighted that we can now buy rough-terrain cranes from Liebherr again. The machines are essential for opencast mining", explains Matthias Wasel in a satisfied tone. He forms half of the second-generation management team at Wasel GmbH with his brother Thomas. One major area of work for the company is lignite mining. The opencast mining experts from Bergheim ordered a total of six of the new LRT cranes. They received the first two in November 2017 – the first ever of the two LRT crane models delivered as Christoph Kleiner, Sales Director at Liebherr-Werk Ehingen GmbH, confirmed.
We know that we can rely on fast spare parts supplies and excellent customer service from Liebherr.
Opencast mining means extreme terrain and hard work. A classic mobile crane will not get far here. Not even if it is a Liebherr. Wasel GmbH has previously used rough-terrain cranes from various manufacturers. They include one from Liebherr. The LTL 1160 is the most powerful rough-terrain crane in the world and has been doing sterling service for years. It was manufactured in Ehingen in 1997. Now, though, our new rough-terrain cranes are ready to go – the LRT 1090-2.1 and LRT 1100-2.1. Matthias Wasel is convinced: "Compared to other manufacturers, we know that we can rely on fast spare parts supplies and excellent customer service from Liebherr." Family-run Wasel is a long term customer, reliable partner and also a dealer for Liebherr tower cranes. Its fleet includes 135 mobile and crawler cranes from Liebherr. That means that it is also extremely beneficial that the Liebherr cranes have standard controls, as Matthias Wasel stresses: "It means that the crane drivers can switch between the different vehicles quickly."
This article was published in the UpLoad magazine 01 | 2018.