Optimised drivetrains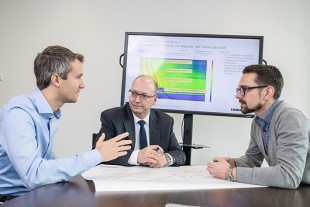 Liebherr develops and supplies application-specific solutions for diesel-electric and diesel-hydraulic drivetrains, from a single source. We always focus especially on optimising performance, handling and energy efficiency.
To this end, our experts assess existing systems through field measurements and simulations. This basis is then used, in close collaboration with our customers, to come up with new concepts. These are simulated under boundary conditions as close to reality as possible.
We are your partner for control development through to assembly and delivery of the system solution. We are also happy to support you with the subsequent validation, for example with measurements on the prototype.
Electrification in the spotlight
Electrification is the current buzzword when it comes to future development of mobile machinery. Emission-free construction sites are not currently economically viable on account of the associated extra costs, but they could - maybe even in the near future - become imposed by legislation.
Liebherr is truly on the forefront when it comes to switching to alternative drive methods. We are developing the corresponding technology and also the appropriate systems for electrical construction machinery drivetrains.
Systems with our own components
When developing individual system solutions, Liebherr draws on components produced in-house. Thanks to our high degree of vertical integration, we have a deep-rooted understanding of individual components and parts, and can match them up perfectly to one another. This results in high-value system solutions that can be equipped according to customer wishes with a suitable application software.
Diesel-electric drivetrain
Diesel-electric drivetrain with diesel engine, generator, control cabinet with power electronics, controls, electric motors, gearboxes and slewing bearings from Liebherr.
Diesel-electric drive systems
Diesel engines, generators, frequency conversion control cabinets, electric motors and the appropriate gearboxes, slewing bearings and rope winches: Liebherr develops and manufactures a wide range of components for diesel-electric drivetrains.
Through many years of experience in components production, our experts are able to perfectly match the individual components and, in this way, come up with leading-edge systems that stand out for high energy efficiency and controllability.
Diesel-hydraulic drivetrain
Diesel-hydraulic drivetrain with diesel engine, splitter boxes, hydraulic pumps, hydraulic motors, slewing bearings, gearboxes, rope winches, hydraulic cylinders and electronics components from Liebherr.
Diesel-hydraulic drive systems
Diesel engines, splitter boxes, hydraulic pumps, hydraulic motors and the appropriate gearboxes, rope winches, slewing bearings, hydraulic cylinders – components manufactured in-house form the basis of Liebherr's diesel-hydraulic drive systems. Through the optimal combination of tried-and-tested components, systems are produced with maximum power density, mainly for use in mobile machinery.