"Small enough and a good capacity"
The recent addition to our range is the brand new LR 1700-1.0 crawler crane. Our new model, which features every single recent innovation in crawler crane technology, is off and running. The first machines have been on trial with our partners for the last few months. And what we are hearing from them tells us that we have satisfied all the demands of the market with this advanced 700 tonne machine. Which also means that we have also satisfied our own demand of being the technical benchmark for cranes. Globally.
The brand new LR 1700-1.0 has been leaving our production halls since summer last year. After around thirteen years, it is replacing the LR 1600/2 crawler crane, more then 220 of which have been built. It was mainly the pioneering new developments by our engineers in crawler crane technology that paved the way for this advanced crane. We have completely redesigned the basic machine and made it more powerful, albeit invisibly. Although the new crane has similar dimensions as its predecessor, the performance parameters of the LR 1700-1.0 in part extend into the domain of its big brother, the LR 1750/2. And in some cases, they even exceed it.
The energy revolution is accelerating. More and more countries are choosing wind power as part of their renewable energy sources. This means that this sector is growing rapidly whilst the heights and dimensions of new wind turbines are increasing all the time. We are ready and waiting for it to happen! We have once again reacted to this development with our new crawler crane and tailored the LR 1700-1.0 to meet these rising requirements. During its very first job at a wind farm, the new crane was able to demonstrate all its features in full. This particular crane – operated by crane contractor Hofmann, based in Paderborn – was set up with the maximum main boom length of 165 meters, together with a twelve meter fixed jib. This enabled the crawler crane to erect a 4.5 megawatt wind turbine made by Nordex with a hub height of 164 meters. To do so, it had to hoist gross loads of up to 75 tonnes to the top of the tower. This proved no problem to the power pack finished in the company's blue livery. In fact, in this set-up, the crane can hoist load cases of around 100 tonnes.
I think, Liebherr has done a good job.
"I like the machine"
During its first year in action, Hofmann's LR 1700-1.0 has already erected five "windmills". The new crawler crane is awash with modern features which means it has several major time-saving tools on board. "The detachable VarioTray derrick ballast and the V-Frame mean that we no longer have any time-consuming ballasting work to do", says a happy Christoph Bergmaier, who shares the operator cab with his colleague, Stephan Dickel. His brief summary: "Powerful crane and really user-friendly."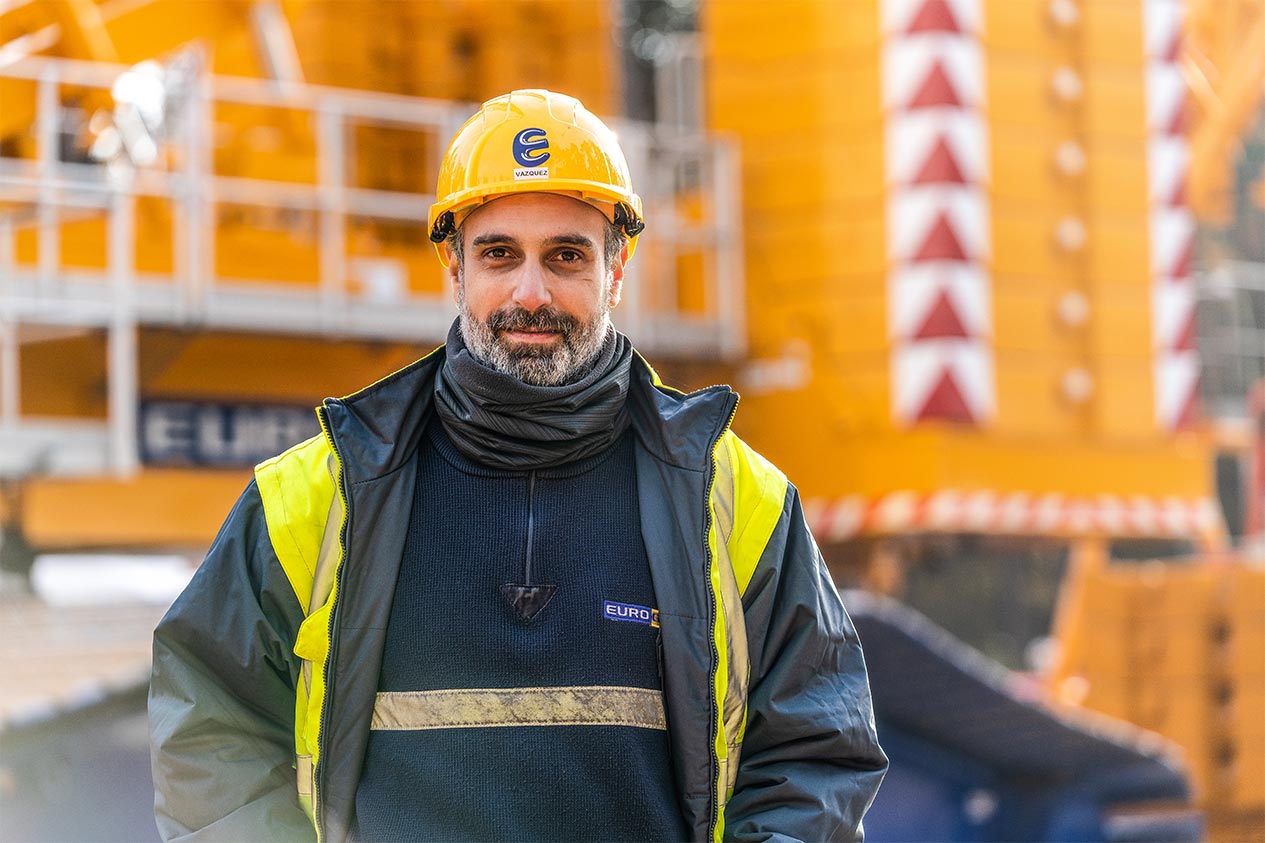 Our new crane is also up and running with great success on sites in the USA and several European countries. Spanish group Eurogruas is another of our first business partners who have decided to buy the LR 1700-1.0. The machine was handed over to this crane and heavy haulage group, which is also active in Africa and South America, during November. However, the 57 trucks carrying the equipment started from Ehingen and went north rather than south. In fact, the crane components were transported to the northern edge of the Ruhr region and assembled near Recklinghausen. In the middle of a large wooded area, it was awaited by two wind turbines with hub heights of 161 meters and an impressive rotor diameter of 158 meters, which had to be erected. For this job, too, the LR 1700-1.0 was set up with its maximum boom and the twelve meter jib. The loads were rather higher than at the Hofmann site at up to 92 tonnes.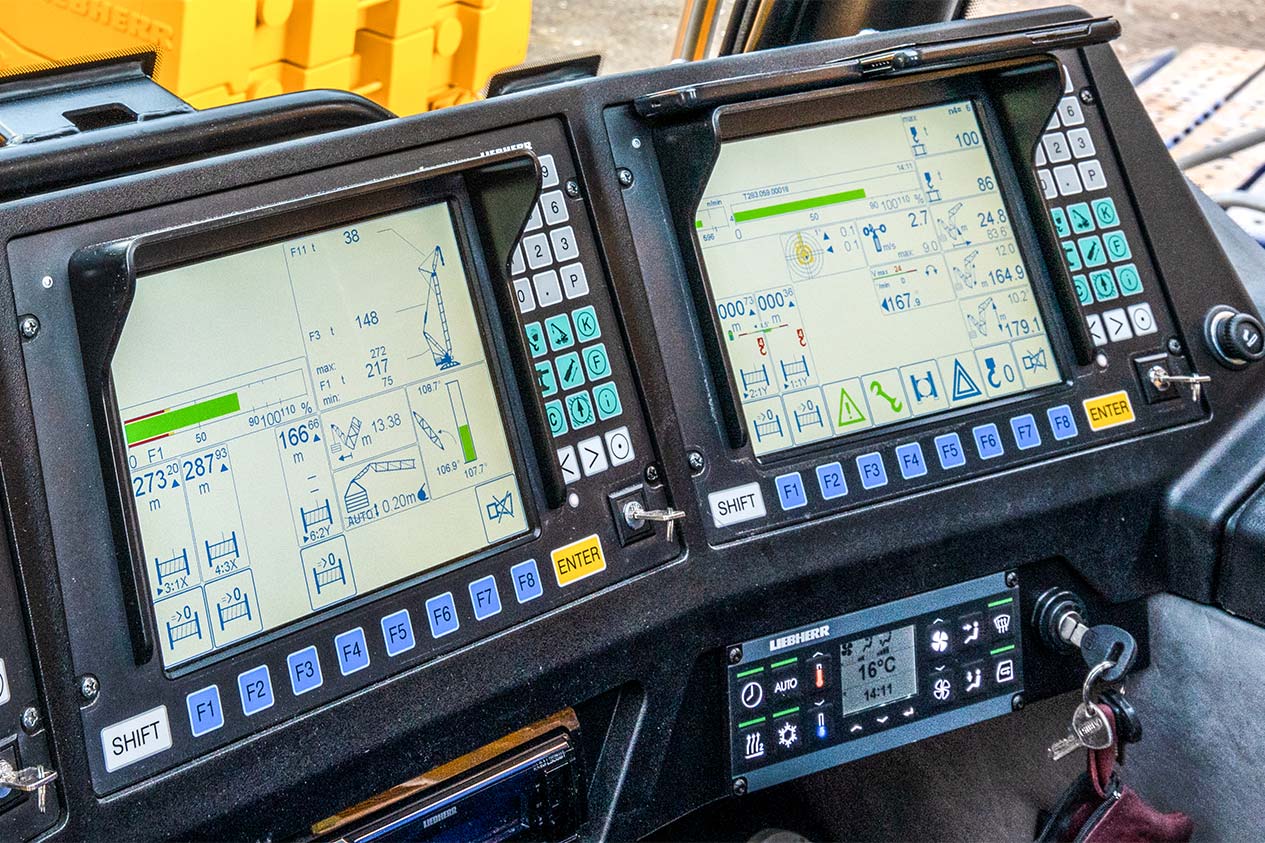 José Miguel Vázquez Sánchez, Eurogruas' Site Supervisor seemed very pleased with his new machine after the first turbine had been erected very smoothly. In terms of its dimensions, explained the Spaniard, this powerful machine reminds me more of a 600 tonne crawler crane: "Small enough and a good capacity. I like the machine." In fact, during the design work for the LR 1700-1.0, we focused on giving it high lifting capacity values whilst keeping its dimensions compact. Not least to enable its individual components to be transported as efficiently as possible, and therefore economically.
Wasel uses luffing jib from the LR 1600/2
Major crane and heavy haulage contractor Wasel, based in Bergheim near Cologne, also ordered one of the 700 tonne crawler cranes. This machine has also now erected several wind turbines. However, Wasel GmbH does not just intend to use its new all-rounder for this type of work. Jobs in the petrochemicals sector as well as infrastructure and industry jobs will also be tackled by its crawler crane in its blue and white livery. "For its first job at a power plant, we set up our LR 1700-1.0 with a 42 meter luffing jib", says Martin Bender, the Crawler Crane Dispatcher at Wasel. A 100 tonne load had to be positioned at a hook height of 85 meters using a radius of 27 meters. "The fact that the crane is suitable for universal use was the main factor behind our purchase decision". Just like Bender, Wasel's Technical Director Julian Schmidt is also extremely satisfied with this latest addition to the crawler crane fleet: "A brilliant successor to the LR 1600/2, which has been very reliable to date. In addition to its impressive lifting capacity values and the superb V-Frame concept, one of the main benefits is that we can use lots of components from our LR 1600/2. Including the complete luffing jib."
During the development of the new crane, our engineers here in Ehingen always had an eye on the wide range of possible uses for the LR 1700-1.0 and its economy, in addition to tailoring it for jobs in the wind power sector. That is why we ensured it had a wide range of set-up versions. From the 198 meter boom, consisting of the main boom and luffing jib, to a modular ballast wagon, which, by the way, can also be used on the LR 1800-1.0 and LR 11000. This so-called "M-Wagon" rounds off the highly efficient derrick system of the new crawler crane perfectly in addition to the "VarioTray" detachable ballast system and the "V-Frame" folding frame.
Which means that we were almost tempted to agree secretly with him when José Miguel Vázquez Sánchez, the Project Manager at Eurogruas, said with some satisfaction: "I think, Liebherr has done a good job."
This article was published in the UpLoad magazine 01 | 2022.