Mining
In 2019, the Mining division achieved revenues of € 1,071 million, increasing its sales by € 1 million, or 0.1 %, compared to the previous year.
Development compared to previous year*

Turnover in € m
from 1,070
( + 0.1% )

0

Investments in € m
from 43
( - 25.6% )

0

Employees
from 3,782
( + 5.9% )

0
Turnover by sales regions
Central and South America

14.2%

Africa, Near and Middle East

14.2%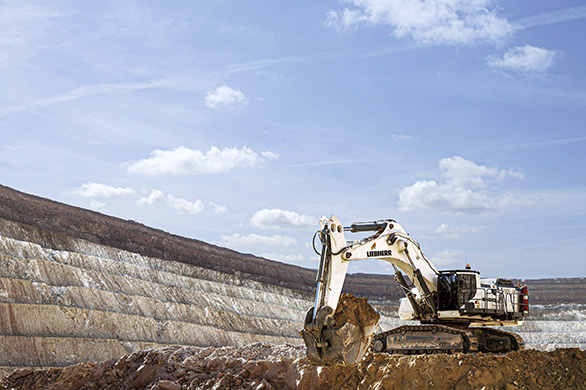 Rising investments in mine automation
In 2019, the mining industry remained quite stable, showing a slight downward trend by the end of the year. Given this development, the Mining division could slightly increase its overall revenues and market shares by, amongst others, improved sales with new machines. Growth drivers turned out to be North America with important gains in the USA and in Canada. While sales levels declined in the European Union, the business in Russia could counter this development with very favourable revenues. The division also reported moderate gains in Asia and Oceania with growth impulses generated by Pakistan and China. In Africa, Near and Middle East the division experienced a modest sales downturn.
With an order for 28 units R 9100, the division was not just able to penetrate a new market but also to increase the global market share in this size class.
Major orders from Panama and Pakistan
A real highlight for the division was the delivery of the last 12 of a fleet of 30 T 284 trucks to First Quantum Minerals, Limited (FQML) for the Cobre Panamá mine, the biggest copper mine in the world. Following its aim to conquer new markets, the division accepted a challenging order of 28 R 9100 mining excavators with 100-ton operating weight for the Thar Block coal mine in Pakistan. Furthermore, the division is extremely happy to have concluded frame contracts with large mining companies that will provide good security for future deliveries and aftersales turnover for multiple years.
As far as product development is concerned, the division invested mainly in increased safety and performance, as well as fuel efficiency. Special emphasis was put on the "zero-emissions mine" by an improved trolley system that allows all truck sizes to be supplied with energy through an overhead electric line providing electric energy straight into the truck drivetrain. The division made another important step towards the automated mine site by successfully equipping hydraulic excavators with a system that enables operator assistance through digging, which is the first step towards autonomous excavator operation.