Max power
Of course, the LTM 1650-8.1 carries the same concept as its predecessor in its genes – maximum performance on eight axles. The result is impressive – it will be able to complete hoisting work in the 700-tonne class or even higher with ease. It therefore has a nominal lifting capacity of 700 tonnes. Depending on its equipment package, the new crane is between 15 and 50 percent more powerful than the old one. Technical progress has made this possible since, after all, a great deal of work has been done in this respect since the development of the LTM 1500-8.1 20 years ago.
The new crane has also inherited something else from the LTM 1500-8.1 as it is also available with two telescopic boom lengths. 54 metres or 80 metres. Customers can also buy both lengths and interchange them easily by replacing telescope section 3 including the roller head with telescope sections 3 to 5. The concept has proved to be a successful one.
Our designers also used the time-tested technology from the LTM 1500-8.1 for the Y-guying on the new LTM 1650-8.1 – and although they upgraded the single-rope system to achieve better performance, the benefit of easy handling was retained. The experts from Ehingen focused on achieving an easy, fast and safe set-up process during the design process.
Two 8-axle cranes with the very latest technical features
We now have two modern 8-axle cranes in our product portfolio. At the Bauma 2016 trade fair, we caused a stir with an 8-axle mobile crane designed to deliver maximum flexibility and fast set-up times – the LTM 1450-8.1 travels with its 85 metre telescopic boom and all four supports on public roads with an axle load of just 12 tonnes. In designing its new 8-axle crane, we focused on achieving maximum load capacities. The LTM 1650-8.1 travels with an axle load of 12 tonnes complete with its 54-metre telescopic boom and the front outriggers. "To minimise the set-up time, however, the rear outriggers are installed as complete support box in a single hoist and connected using quick-release couplings, an idea we had some years ago", says Hans-Dieter Willim, who helped design crane technology at Liebherr for four decades.
To minimise the set-up time, however, the rear outriggers are installed as complete support boxes in a single hoist and connected using quick-release couplings.
As with all new developments over the last few years, our engineers ensured that we can offer the LTM 1650-8.1 with a very wide range of transport weights and axle load versions to ensure cost-effective global mobility for axle loads both above and below 12 tonnes.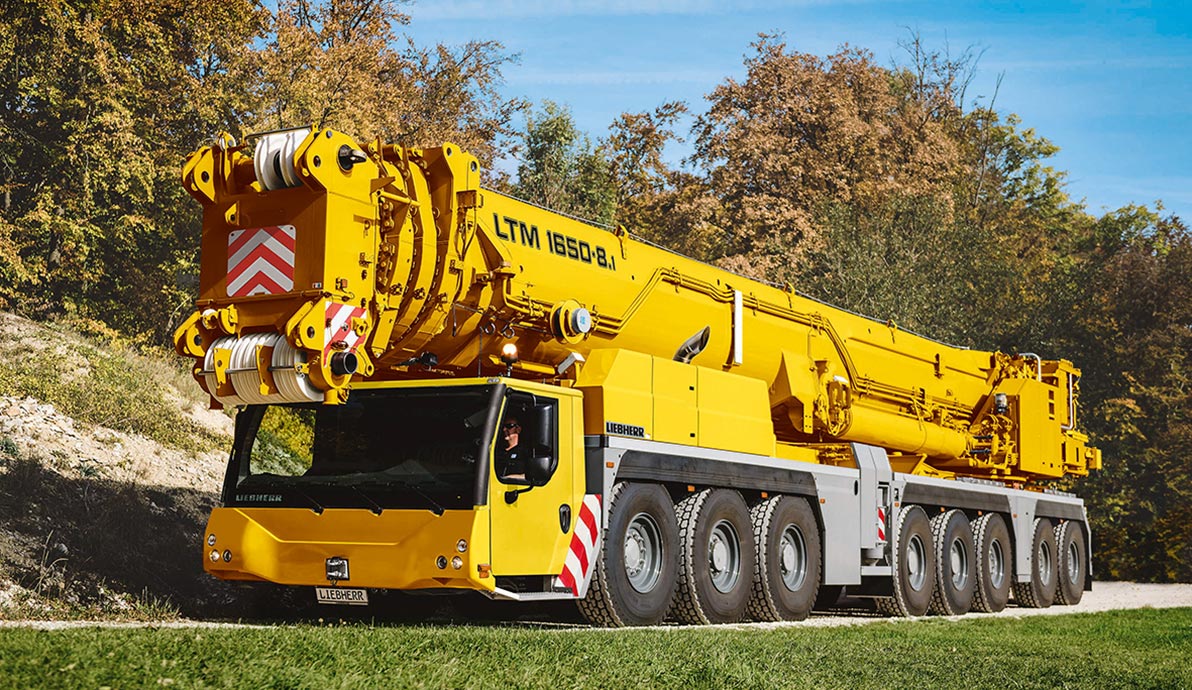 Greater flexibility of use with VarioBallast®
High performance normally requires a large ballast radius. But often there is simply not enough space on building sites. This means the ballast radius must be as small as possible. We meet this challenge with our VarioBallast® innovation. The new LTM 1650-8.1 has adopted this time-tested system from the LTM 1450-8.1 – the ballast radius can be infinitely adjusted using a simple hydraulic slewing mechanism – between 6.4 and 8.4 metres on the LTM 1650-8.1.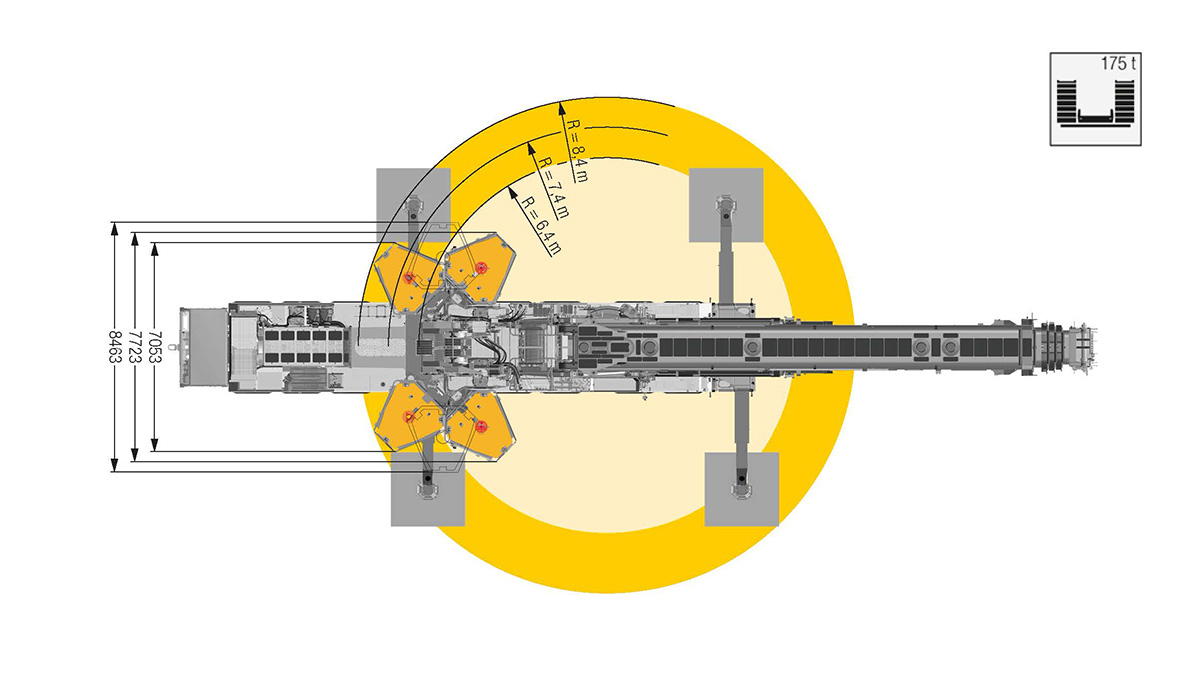 The laws of physics never change, but for decades cranes have been becoming more and more powerful. How is this possible?
The LTM 1500-8.1 dominated the market for large telescopic cranes for two decades. Its successor, the new 8-axle LTM 1650-8.1, is significantly more powerful although it is based on the same crane concept and has approximately the same crane weight. That enables it to break into the lifting capacity range which was previously the domain of 9-axle cranes. We asked Bernd Boos, Telescopic Crane Design Manager, how this is possible.
"Both cranes do indeed have around the same weight in terms of their crane structures. However, a good deal of technical work has been done in the twenty years between the design phase for the LTM 1500-8.1 and the one for the LTM 1650-8.1. For example, we now have fine-grain structural steel types which are much more efficient. In fact, the telescopic boom on the LTM 1500-8.1 is made of S 960 with a yield point of 960 N / mm². On the LTM 1650-8.1, on the other hand, we use S 1300 steel with a yield point of 1300 N / mm². That means that steel of the same weight has a 35 percent greater load capacity. Even better coordination of the boom profiles with the improved guying equipment has enabled us to increase lifting capacities even further.
Experience plays a major role in this development. We are always learning. For example, over the last few years we have collected a great deal of experience with thin-walled boom profiles and have managed to improve our calculation models using the finite element method.
Furthermore, we have new manufacturing methods available today. It is now possible to manufacture longer metal sheets for the boom profiles which means that fewer welds are required. That also means less warpage in the material. Two innovative Liebherr developments have also made a significant difference – the single-engine concept and VarioBallast®. We also made a conscious decision to use the single-engine concept for the LTM 1650-8.1 because the weight reduction caused by not having a superstructure engine can be used for the load-bearing components. VarioBallast® can improve performance since the increased ballast radius results in an increase in the moment of the counterweight and also relieves the strain on the vehicle's chassis by reducing torsion. And the small ballast radius is perfect for constricted operating conditions.
These continuous improvements show that we are systematically working on pushing the bounds of physics."