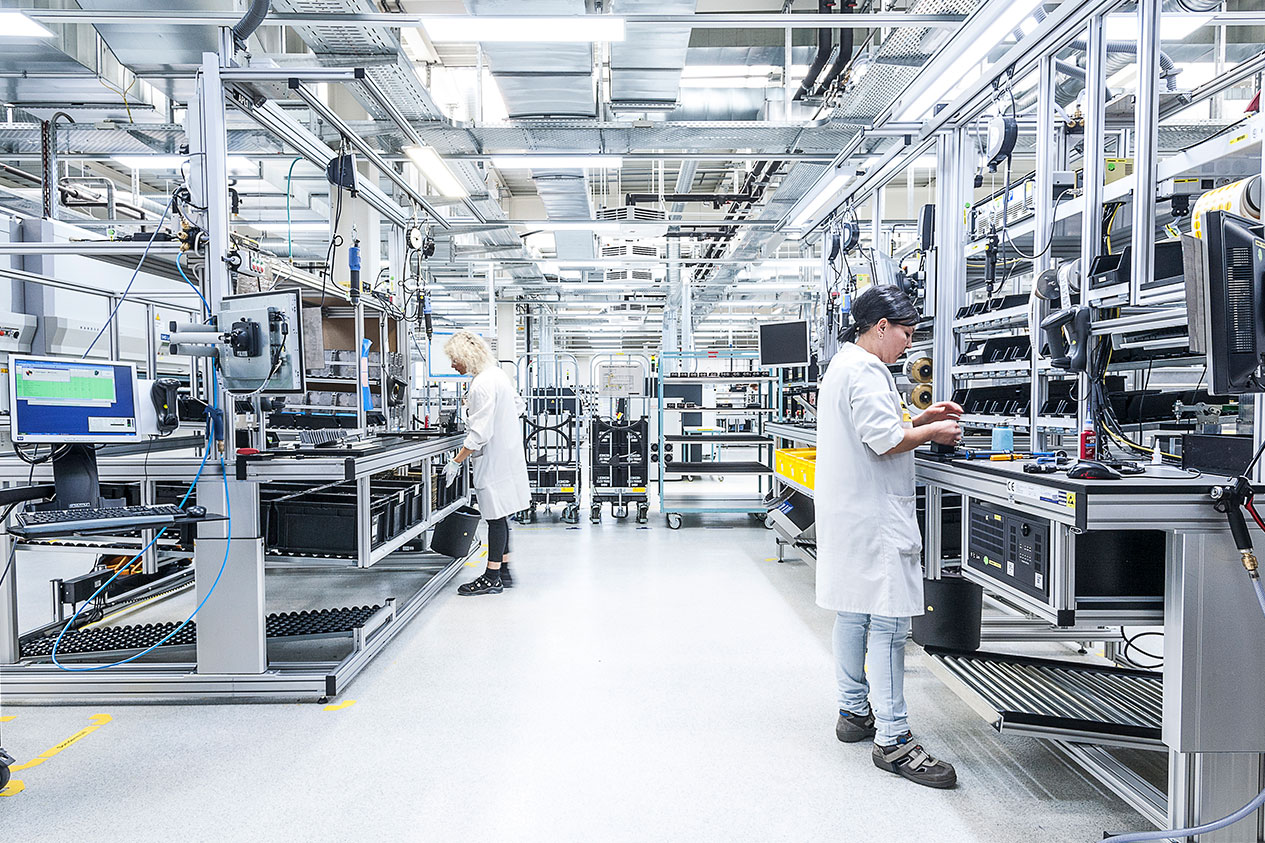 5G mobile technology presents Liebherr-Elektronik GmbH with challenges, but also offers enormous growth potential. Automation and autonomisation are creating new business models, and services are pushing the machine into the background.
Author: Stephan Köhnlein
Crawler excavators, tracked excavators, wheeled excavators - the capabilities of each of these construction machines make them particularly suitable for certain fields of application. On the motorway construction site of the future, a fleet of machines works in an optimally coordinated manner in terms of economic and technical aspects. The autonomous machines know what the desired terrain profile should look like because they have downloaded the plans of the 3D model beforehand.
Machines made by different manufacturers communicate with each other via their own 5G network. This also allows supply chains to be monitored and optimised: When do empty trucks arrive? When will material arrive? Can the truck bringing tar pick up spoil on the way back? The construction site does not stand still, day or night. All work steps are digitally documented. For example, when a bridge foundation is being concreted, the machines transmit the quality and condition of the concrete, the type and time of compaction and the time it took to reach the construction site.
30 years
is the average lifespan of a construction machine.
All of this is still pie in the sky. "There is no integrated system for the entire process yet," says Roman Hofmann, Chief Engineer Research and Technology at Liebherr-Elektronik GmbH. But he is sure that such systems will arrive on the scene in the foreseeable future. These major challenges, which Liebherr considers itself well placed to take on, also offer enormous growth potential.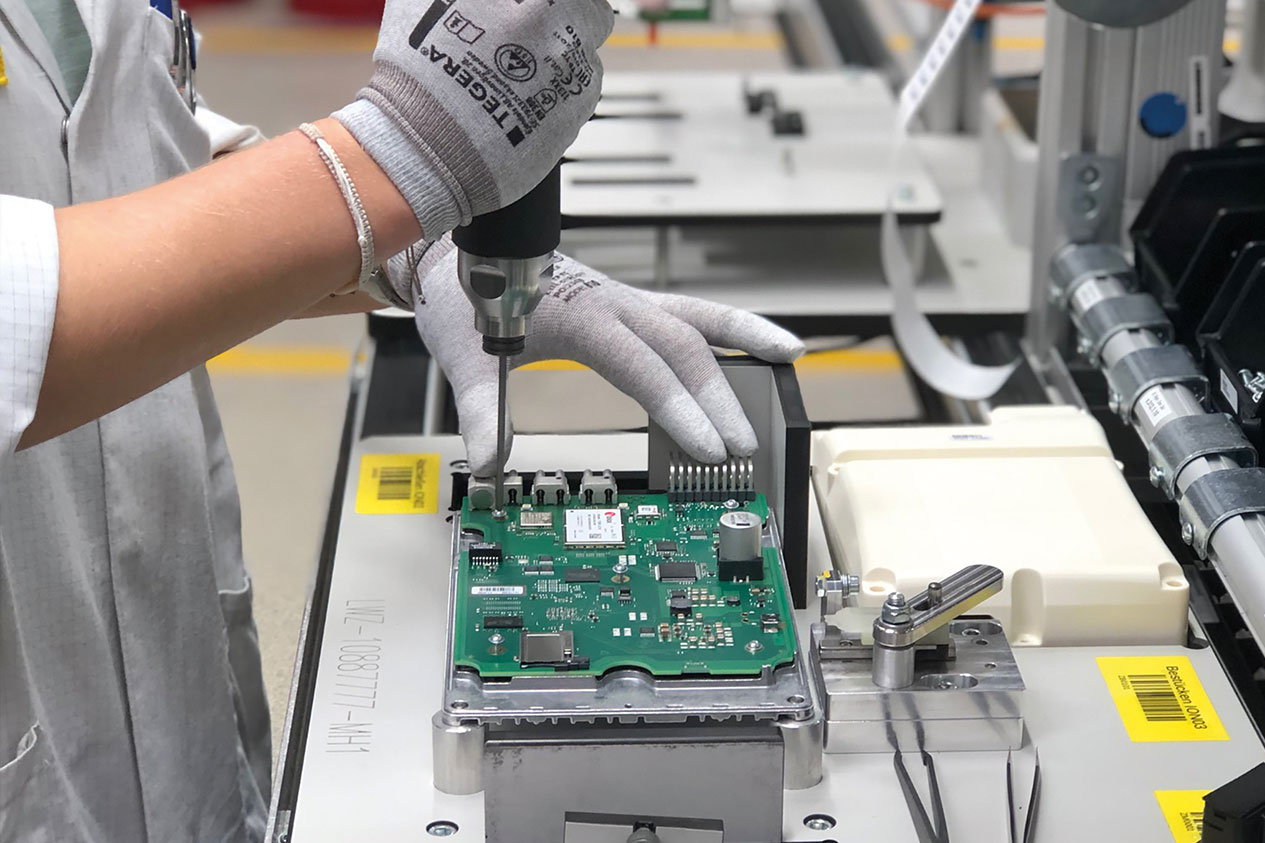 Exploiting new opportunities
A look back at history shows how Liebherr has repeatedly discovered and exploited new opportunities. After the Second World War, company founder Hans Liebherr ran his parents' construction business and recognized the need for reconstruction tools and machines. Together with design engineers and craftsmen, he developed the first mobile tower crane in 1949.
A few years later, Liebherr was offered the opportunity to buy a refrigerator factory. When he looked into the product, he saw the market potential. Only one in ten German households owned such an appliance at that time. Liebherr set up its own production facilities, had the first refrigerator manufactured in 1954 and started series production a year later. Liebherr's involvement in the field of aircraft technology began with shareholdings. In March 1960, Hans Liebherr set up the Liebherr-Aero-Technik GmbH company in Lindenberg in the Allgäu (Germany), which was renamed Liebherr-Aerospace Lindenberg GmbH in 1996. The goal: to develop and produce their own components and systems. Since then, Liebherr has become an international group with over 140 companies and around 48,000 employees worldwide, which achieved a turnover of 11.75 billion euros in 2019.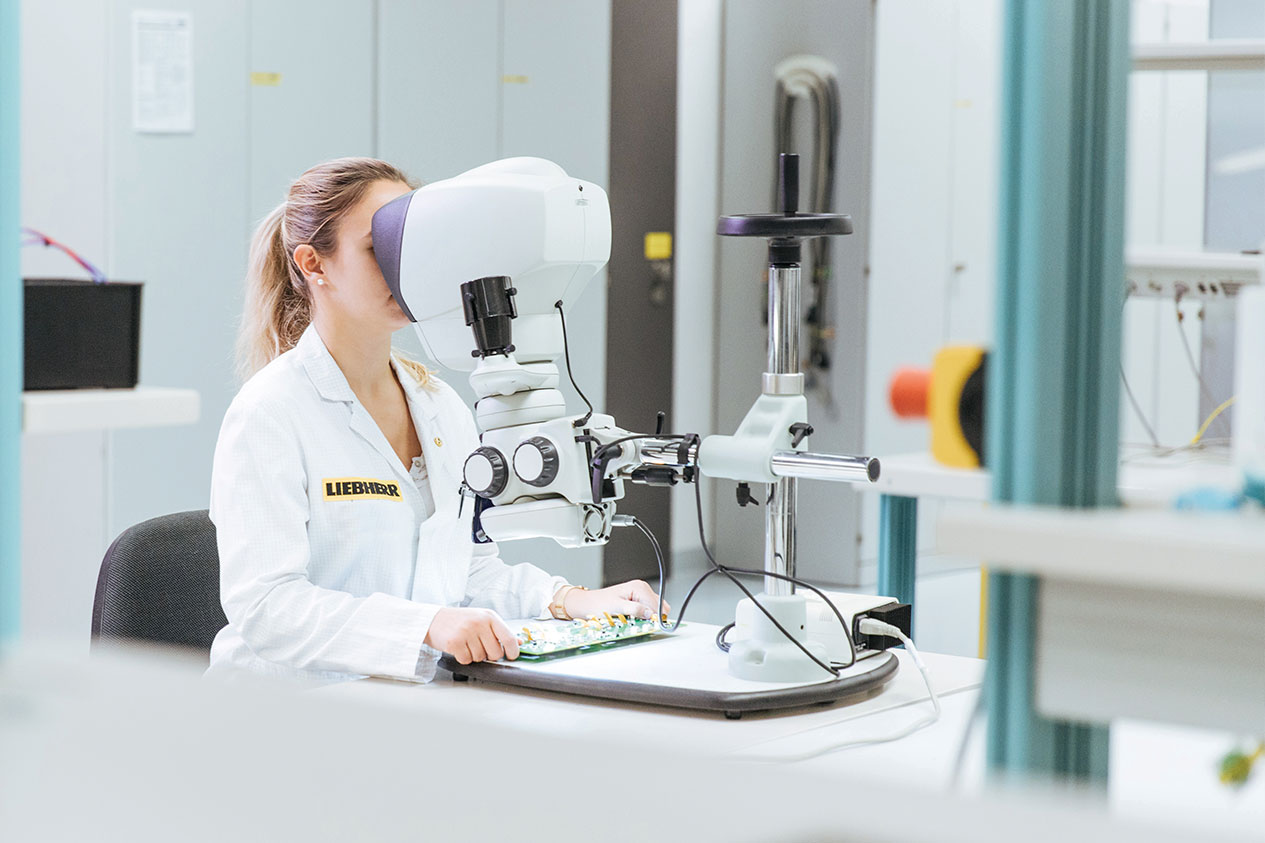 Liebherr-Elektronik GmbH is based in idyllic Lindau on the shores of Lake Constance. With around 580 employees, it is rather a small company. However, it is of central importance, since regardless of whether it's construction machinery, refrigerators or the aviation industry, electronics play a key role in many Liebherr products. And that's where the Liebherr Group relies on in-house technologies. "Growth is only possible in Germany today, if products stand out from the crowd and are tailored to a specific need," says Managing Director Claus von Reibnitz. "That can be technical features, a specific application, but also a niche strategy." Really good ideas emerge when people inspire each other and think beyond the everyday context. With a smile, von Reibnitz recalls, how the idea for a new position transducer for hydraulic cylinders was born on a beer mat during a social gathering at a construction fair a few years ago.
But Liebherr also has a structured idea management system, works in an interdisciplinary way and benefits from the company's diversity. Its leaders believe that the mindset for innovation is independent of whether one builds refrigerators or construction machinery. All employees can submit ideas and suggestions via the Liebherr idea management system on the intranet. These ideas are studied and, where appropriate, awarded prizes. Prizes include, for example, bonuses, visible recognition such as a temporary parking spot directly outside reception or innovation awards in the individual divisions of the company group.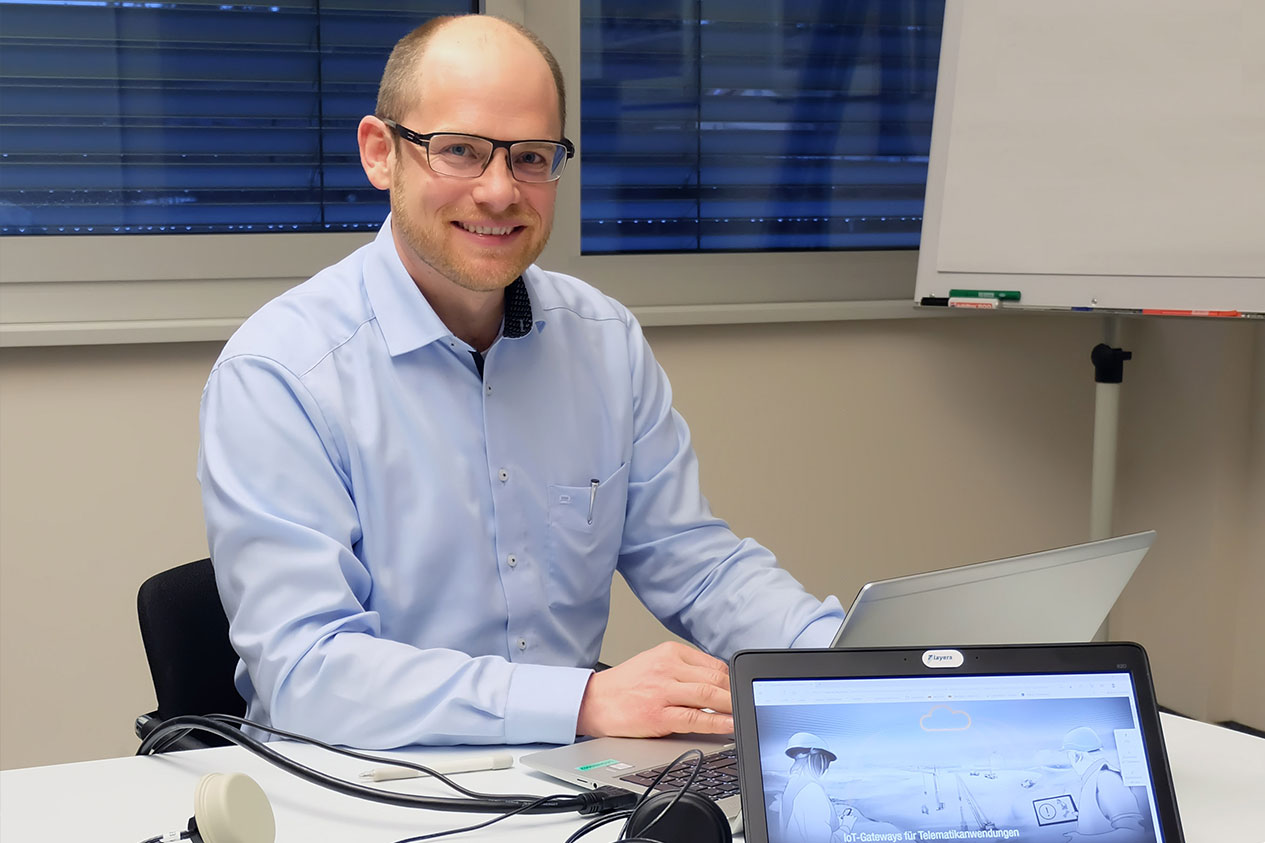 Using 5G for digitalisation
At the moment, three major trends are emerging at Liebherr-Elektronik GmbH: autonomisation, automation and digitalisation. The new 5G mobile communications technology plays a key role in this. "This is mainly due to its bandwidth for large amounts of data and the low latency times, which open up completely new possibilities," explains Martin Lorenzen, Head of the Product Line Gateways. Unlike the previous 4G standard, 5G makes it possible, for example, to set up so-called campus networks. "In this way, you can set up your own base station independently of large mobile phone providers and transmission masts," explains Lorenzen. Campus networks are ideal for motorway construction sites, for example, that extend over several kilometres and cannot be covered with a WLAN. They are also suitable for use in mining, where the work sites are often far away from today's mobile phone networks.
In numbers
2000
is the year Liebherr-Elektronik GmbH was founded.
50,000 m²
is the total area of the company premises in Lindau on Lake Constance.
580
employees work there, around a quarter of them in research and development.
With 5G, the demands on security are also increasing, since the higher the number of connected devices and the longer they are in the open field, the more gateways there are for attackers. "You don't just build a firewall or another protection mechanism once," explains von Reibnitz. The process is dynamic and also represents a growing service area for the company. "There will always be bad guys who come with a ladder that is ten centimetres longer than the previous firewall. That's why the wall has to get higher and higher."
Growth happens when products stand out from the crowd and are tailored to a specific need.
Retrofit as a growth field
While a construction machine has a life cycle of about 30 years on average, technology changes much faster, and not only in mobile communications. Retrofit is the buzzword here: old equipment is made compatible with new technology. Liebherr believes, it is well positioned. "We are pursuing a strategy of downward compatibility," says Lorenzen. "The shutdown of 3G does not affect us at all. The machines don't notice and can transmit much more data than before."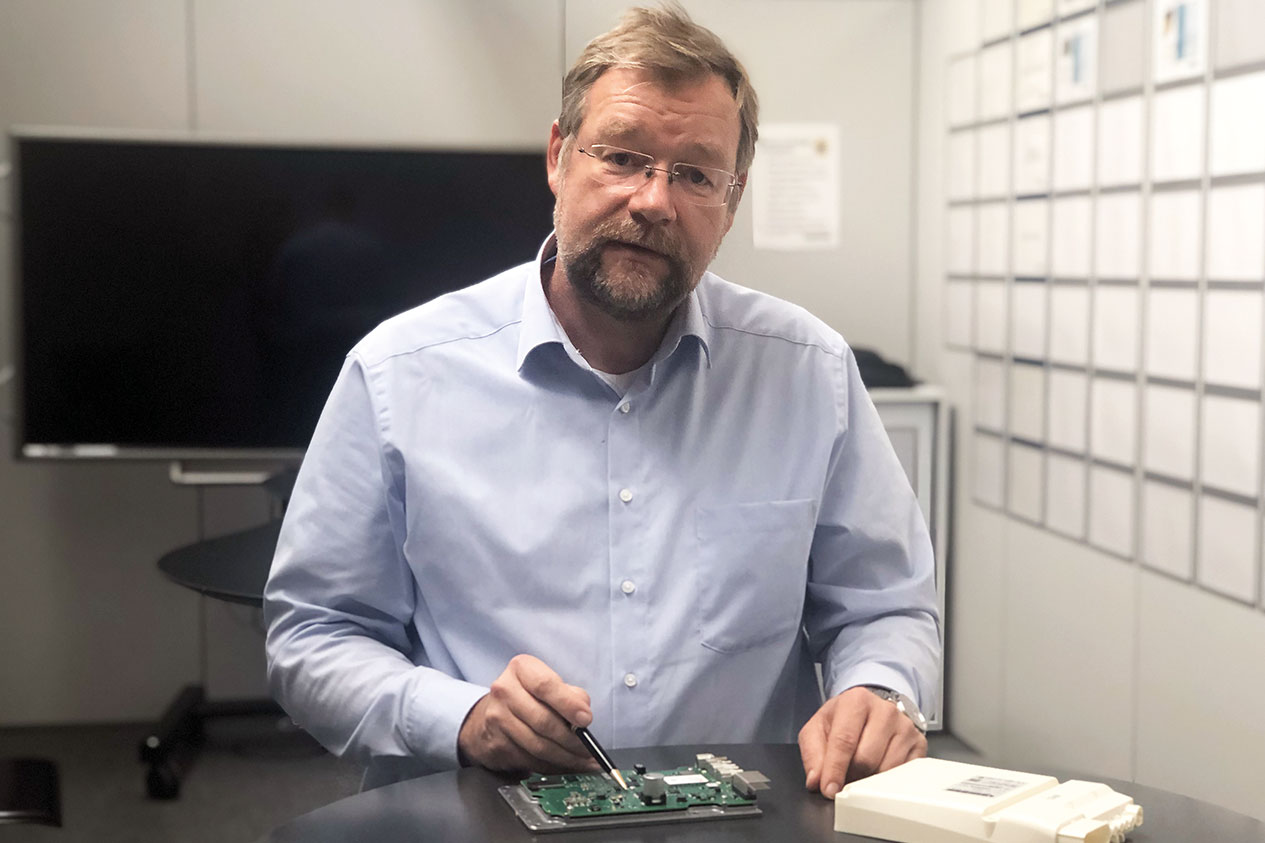 Chief engineer Hofmann makes it clear that retrofitting is not just about keeping existing machines running. Rather, he says, customers can benefit from added value in the form of new technical possibilities. Retrofitting is, therefore, one of Liebherr's major growth areas. However, this requires forward-looking planning: "We are already thinking about what 6G might look like, and what hardware and software we need for it," says Hofmann.
As a technology scout, Hofmann currently sees a paradigm shift in society. "People used to say: if you want to drive, you have to buy a car. Today, young people in particular no longer buy a car, they buy mobility." Work performance is coming to the fore. Equipment is no longer considered with the same degree of importance. As an example, instead of a tracked excavator, people now buy several kilometres of motorway. "This has an enormous feedback effect on the manufacturers," says Hofmann. When machines recede into the background, a fundamental change is taking place, especially for mechanical engineering.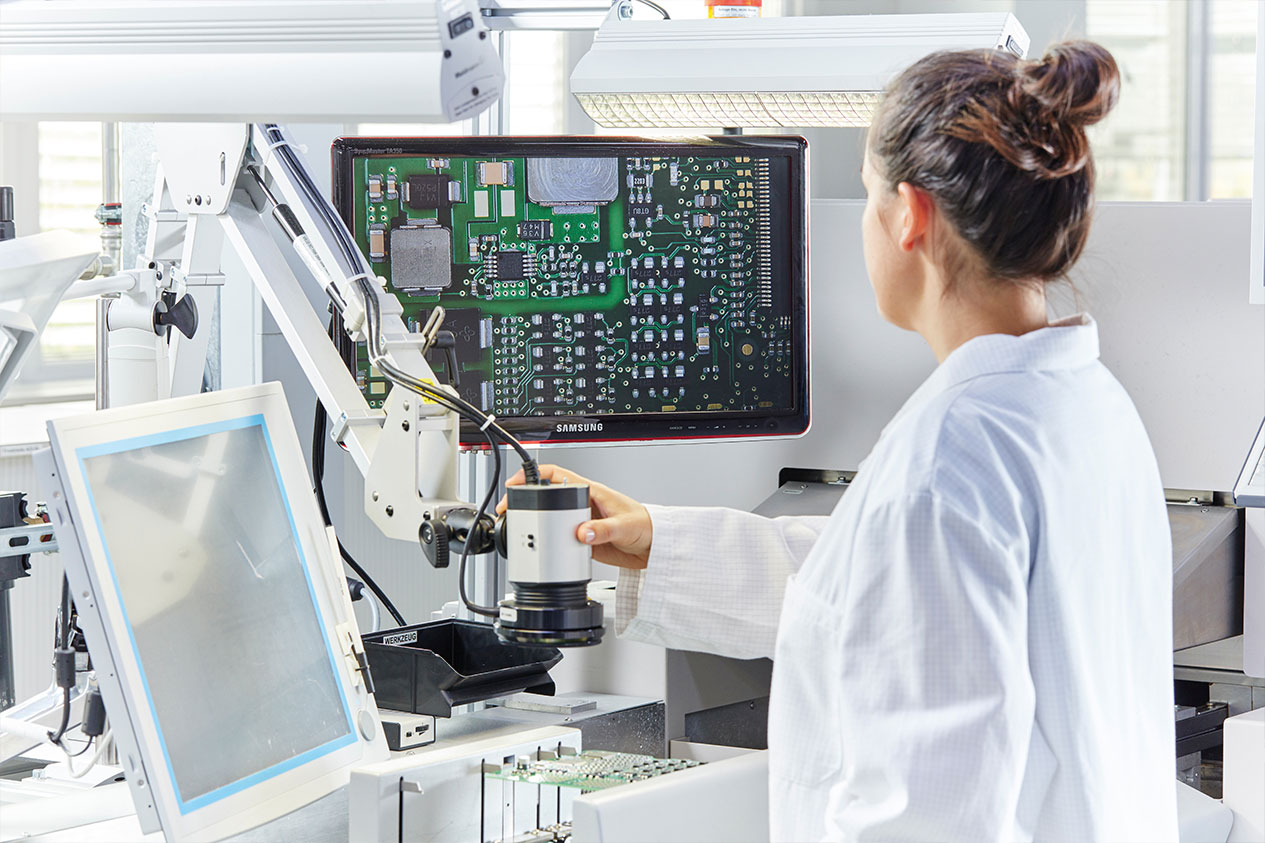 This development is also evident in another market: that of refrigerators and freezers. Here, too, it is no longer just about the appliance, but about specific services. "Sooner or later, it will be state of the art that a refrigerator knows what is stored in it; that it automatically reorders and suggests recipes," says Hofmann. "People will no longer pay to have a fridge, but to be able to use fresh food every day."
The team
Claus von Reibnitz is managing director of Liebherr-Elektronik GmbH and sees the new 5G mobile technology as a major growth driver for his product lines. Martin Lorenzen, as head of Product Line Gateways, is pleased that connectivity is no longer a premium product in this context, but is increasingly penetrating society. Chief Engineer Research and Technology Roman Hofmann, meanwhile, is already thinking about what future 6G technology might look like.
Room for creative tasks
Hofmann sees many opportunities in this development. In the working world, he says, people will continue to play an important role in the medium term, despite all the technical advances. But they could increasingly be spared jobs that are highly stressful or very dangerous. Instead, there is room for more creative tasks. Lorenzen also sees the potential, especially where machines are connected with each other: "Connectivity has long been a topic for the premium sector," he says. That is undergoing a fundamental change. "What's happening is great," says Lorenzen, and: "I'm looking forward to the future!"