Keeping pace with the time
A look back at the history of digitalisation and the improvements it brings which we can offer you.
Did you know? Originally, digitalisation was the word used to describe the treatment of a person or other warmblooded animal with digitalis. Digitalis, by the way, is the Latin name for foxgloves.
Treatment with digitalis, foxgloves, was regarded as medication for various cardiac arrhythmias. However, in high dosages, the medication was actually a poison. This is a comparison which can also be used for the current use of the term – digitalisation is a medication, but in excessive dosages it can also do harm. Perhaps we should consider this the next time we are glued to our mobile phone to find out whether a new message has arrived or start to become nervous when the battery is getting low. Many brain researchers also warn about the uncontrolled use of digital devices, particularly by children.
The history of digitalisation
However, hardly anybody now thinks about foxgloves when they hear the term digitalisation. Since the 70s, the word has been used to describe the conversion of analogue values into digital formats. This development was pioneering. It made the storage and reproduction of information fast and easy. Today, we think nothing of photographing a document and sending it off quickly by email or WhatsApp. And what a blessing that we no longer have to file old slides in boxes or place them in a projector, and instead all we have to do is open a notebook, where we can not only look at them, but also edit them using Photoshop. Those are the positive aspects of digitalisation.
But there is a great deal more involved. Today we talk about the digital revolution and digital transformation in industry, general society as well as in our working and private lives. It is a curse and a blessing in one – breaches of privacy, hacker attacks and cyber bullying on one side, the unlimited availability of information, a home office and digital education on the other, to name but a few. The current Corona pandemic has shown us all the positives and opportunities presented by digitalisation.
And we can now bring in another current buzzword. "Industry 4.0" means the comprehensive digitalisation of industrial production. Man, machine, systems and logistics – everything networked, including the life cycles of products, from the cradle to the grave. There is currently no end in sight to digital developments.
Dialogue with our customers is important to us
When we, a crane manufacturer, talk about digitalisation, we are less interested in the fact that 3-D design has replaced the drawing board and the computer has made the typewriter a thing of the past. Those are technical developments to make work easier and better, just like the software which supports our processes in almost every area of our company.
But the main question for us on the subject of digitalisation is what do our customers gain from it? And it is all about you – from crane operators, dispatchers and workshop managers to company owners. Our focus is on your requirements and wishes. What has digitalisation done for you and us to date? Let's look at a few examples.
The mobile crane is a highly digitalised machine, which permanently monitors itself. For several decades, digitalisation has provided the basis for booms becoming longer and more powerful, crane work being safer and more convenient and after-sales service being able to provide ever more efficient support.
We are all interested in protecting the environment and sustainability. The nitrogen oxides and particulates in the exhaust emissions from diesel engines in our mobile and crawler cranes have been steadily reduced over the last 20 years by more than 96 percent, partly due to software developments – something that would not be even conceivable without digitalisation! This has been supplemented during the last few years by ECOmode and ECOdrive to reduce fuel consumption and noise.
Do you want to prepare your crane jobs perfectly and ensure you have the right equipment for them? The LICCON work planner has been providing support for this since 1994, using the same crane data on the PC and in the LICCON control system. This was a milestone that we have now improved – Crane Planner 2.0 will become the central component for planning jobs using Liebherr cranes. Detailed 3-D site planning in a matter of minutes without a complicated CAD program. We are currently working on ensuring that all our machines can work with the system. And to prepare for this, we now have the Crane Finder – select the right crane for the job quickly and easily using very little data – you can then plan the actual job using Crane Planner 2.0.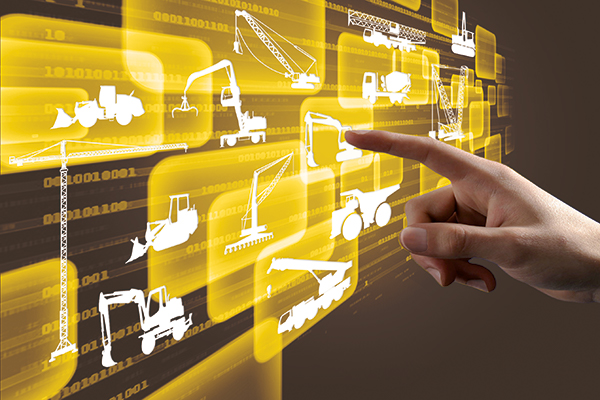 Training is essential for safe crane jobs. Our range of digital services includes the ability to acquire a mobile crane operators licence whenever and wherever you wish – using e-learning.
Fleet management, spare parts process and preventive maintenance – we already have plenty of good ideas and partial solutions, but digitalisation certainly offers an immense amount of potential in these areas. And it is these areas, in particular, that we would like to discuss further with you. We believe that all the points listed above will be included in our MyLiebherr customer profile over the next few years. MyLiebherr will therefore become the digital home of the complete world of mobile and crawler cranes.
We want to intensify the direct, great communication that we have had with you over the last few decades. In addition to personal contacts in our Sales and After-Sales Service Departments, our UpLoad customer magazine will play an important role in this respect. We have created the email address specifically for this purpose. You are very welcome to use this to send us your ideas and suggestions for digitalising the crane industry.
Let's take a closer look at the topic of digitalisation together in the next few editions of UpLoad. We are talking about expert articles on various subjects, reports on the experiences of our customers and, of course, suggestions for improvement as well as completely new ideas from you. We look forward to our discussions with you.
This article was published in the UpLoad magazine 01 | 2020.