Advantages of Liebherr combustion engines
Liebherr combustion engines achieve a high degree of efficiency. Reduced fuel consumption and low emissions protect the environment and resources. As a customer, you benefit from optimised costs throughout the entire life cycle of the engine. Liebherr achieves this through state-of-the-art design and the exact coordination of the engine architecture, injection system, engine control unit and exhaust gas aftertreatment. We develop and design almost all of these components ourselves and manufacture key-components in-house.
Key components of Liebherr
Common Rail System developed by Liebherr
The injection system plays a crucial role in fuel consumption: The Common Rail System from Liebherr generates injection pressures up to 2,200 bar and is optimally tailored to the specific requirements of the combustion engines. Highest nozzle flows in class enable a more efficient combustion.This ensures maximum efficiency in every application.
Innovative SCRonly exhaust gas aftertreatment system
For the further reduction of emissions, Liebherr offers exhaust gas aftertreatment systems that are adapted to the legislative requirements applicable in each region respectively. For stage IV and tier 4 final, Liebherr relies entirely on the innovative SCRonly technology. The in-house developed system effectively reduces the exhaust gas emissions – without any output losses.
Modular architecture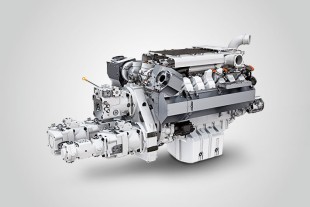 Modular engine architecture
Liebherr constructs many engine variants from a basic engine. The image shows a D9512 diesel engine with splitter box, hydraulic pumps and double pumps.
Our combustion engines have a modular design. The same components are used over our full engine range, e.g., cylinder heads of all in-line engines are identical. This keeps spare part stocks low and increases their availability. Standard interfaces also facilitate engine installation.
Excellent service
Liebherr engines also impress when it comes to maintenance and service. During the design and construction stage we ensure that all service-relevant parts are easily accessible. This means, for example, that oil filters are easy to reach and cylinder heads can be replaced individually. The worldwide Liebherr network guarantees short response times and fast availability. Liebherr also developed its own electronic diagnostics tools, allowing trained service technicians to quickly run analysis and optimise engine performance whenever and wherever necessary.
Designed for maximum robustness
Optimally coordinated key components
Liebherr develops its own key components. This optimises the entire engine and helps lower emissions. The D946 diesel engine is equipped with a SCR exhaust gas aftertreatment system, Common Rail System and ECU2 engine control unit.
Liebherr combustion engines prove to be extremely reliable in use, as they have been tested extensively under real life conditions. Already during the development stage we simulate the specific operating conditions and optimise the matching between the engine and the drive train components. In addition to a sturdy and safe design, we also focus on consistent quality assurance and process monitoring. This is how we achieve the maximum robustness and high availability of Liebherr engines – most notably under extreme and demanding conditions.