Regular audits and internal company standards
All corporate processes at Liebherr are focussed on quality, from the selection of raw materials and suppliers to the after-sales service. Each individual component of the large diameter slewing bearing is subject to strict quality requirements. This is why we only work with select suppliers, who are audited on a regular basis. Internal company standards apply to certain raw materials like rolled steel rings. These standards contain requirements, which go beyond the common industry standards.
Sophisticated quality management
Liebherr bearings are characterised by their high quality and reliability. In order to guarantee and further improve our quality standard over the long term, we document all manufacturing and assembly processes in a production data acquisition system. This also serves as a central quality management system for production and assembly measurements, thus allowing comprehensive control, monitoring and tracking; deviations are quickly eliminated and processes are constantly optimised.
Approved quality: certifications
The numerous certifications are testament to Liebherr's high standard of quality. Aside from the usual ISO standards of the quality management system, Liebherr has the following certifications:
Ultramodern measurement methods
Liebherr not only makes regular use of traditional computer-aided measurement methods. The Liebherr Group also possesses numerous highly specialised measuring devices. In recent years, for example, the company has invested in a state-of-the-art crack detection system using high frequency magnetisation and a fully climate-controlled large diameter bearing measuring chamber. 3D measurements of slewing rings with a diameter up to 6,000 mm can be effected. This type of measurement is unique worldwide.
Seamless quality management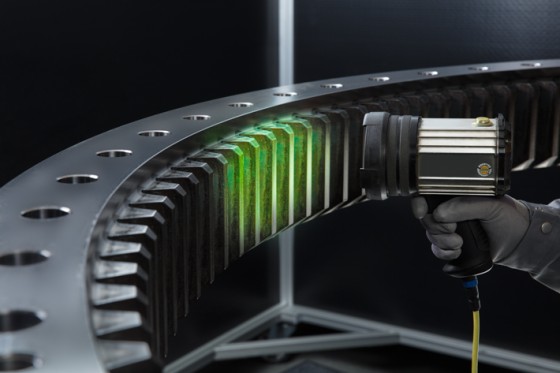 Magnetic particle and ultrasonic measurement
Quality control for Liebherr slewing bearings
Magnetic particle and ultrasonic measurement
Hardness measurement
Quality control for Liebherr slewing bearings
Hardness measurement
Measurement of hardness depth
Quality control for Liebherr slewing bearings
Measurement of hardness depth
Surface inspection (surface roughness)
Quality control for Liebherr slewing bearings
Surface inspection (surface roughness)
Dimension checks and visual inspection
Quality control for Liebherr slewing bearings
Dimension checks and visual inspection