Liebherr components for decentralised energy systems
Liebherr gas engines are specially designed for decentralised continuous operation power supplies. The interactive graphics illustrates an example of a biogas plant, which makes our gas engines a perfect partner for your application.
Basic engine
Liebherr gas engines are delivered as complete engines. Their fittings are matched to customer requirements. The basic engines offer robust construction and prove themselves under extreme conditions of use.
Gas mixer and turbocharger
The ideal turbocharger is selected for each engine and is adjusted to match it optimally. The high efficiency of the turbocharger results in a high charge-exchange efficiency and thus a very good overall efficiency.
Two-stage stainless steel intercooler
Thanks to their stainless steel charge air coolers and special bearing materials, Liebherr gas engines are very resistant to corrosive gas components and are suitable for use with a leaner methane content.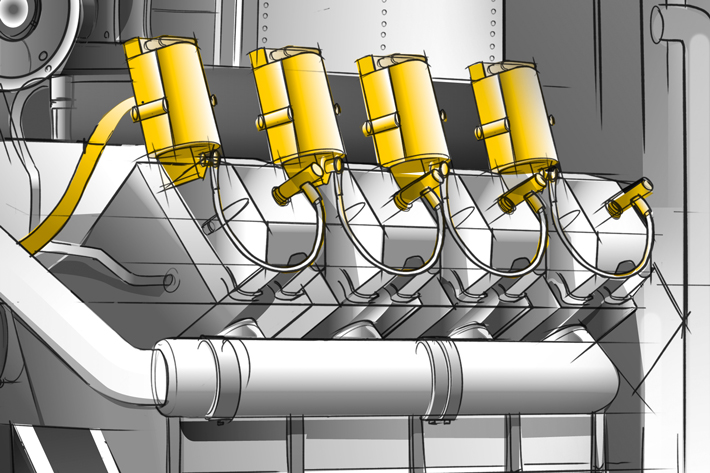 Ignition system
The ignition energy and ignition phase of ignition systems in Liebherr gas engines can be adjusted as required. The result: high efficiency, trouble-free operation and long spark plug durability. Thanks to stable ignition, emissions are also reduced.
Application examples
Liebherr gas engines are used in combined heat and power units as well as gensets. These are suitable for decentralised energy production in a wide range of end-use applications:
Residential applications (multi-family houses, residential buildings, etc.)
Industrial applications (hotels, restaurants, large-scale industries, IT centers, etc.)
Applications in the public domain (railway stations, swimming pools, hospitals, nursing homes, etc.)
Biogas plants
Waste water treatment plants
Agricultural businesses
Pumping stations