They also develop ideas and methods to make crane jobs safer and more efficient. Joachim Henkel has been working on design and development at Liebherr in Ehingen for almost 30 years. He was made head of the Structural Engineering Department in 2011.
"We cannot direct the wind but we can adjust the sails." When Greek philosopher and nature researcher Aristotle said this in the 4th century BC, it is doubtful that he was thinking about cranes. However, there were actually simple machines around at the time which could hoist loads using pulleys. But the wind was certainly not the greatest challenge they faced.
The new, additional lifting capacity tables enable you to reduce your crane downtimes.
The wind is now a major factor for crane jobs as hoist heights and the areas on loads exposed to the wind have increased. The wind can be both a blessing and a curse when erecting wind turbines at high altitudes and in stormy areas – although it drives the turbines, it makes their erection and maintenance much more difficult.
But if we cannot direct the wind, we must make our machines ready and stable for stormy days. We have managed to do this by preparing new lifting capacity tables involving higher maximum wind speeds. To date, these tables have been used with some of our lattice boom cranes. But now they can also be helpful with some of the more recent LTM models. And you benefit by reducing downtime and increasing profitability, planning reliability and safety.
The lifting capacity tables for cranes generally apply in gust speeds of up to 9 m / s (20 mph) at the top of the boom head with an area exposed to the wind (including cw value) on the load of 1.2 m² per tonne. This is the specification set out in the standard with which all our competitors also have to comply. The calculated wind load from these figures is 50 Newtons per square metre – which corresponds to a windy day with swaying treetops and some foam forming on the sea.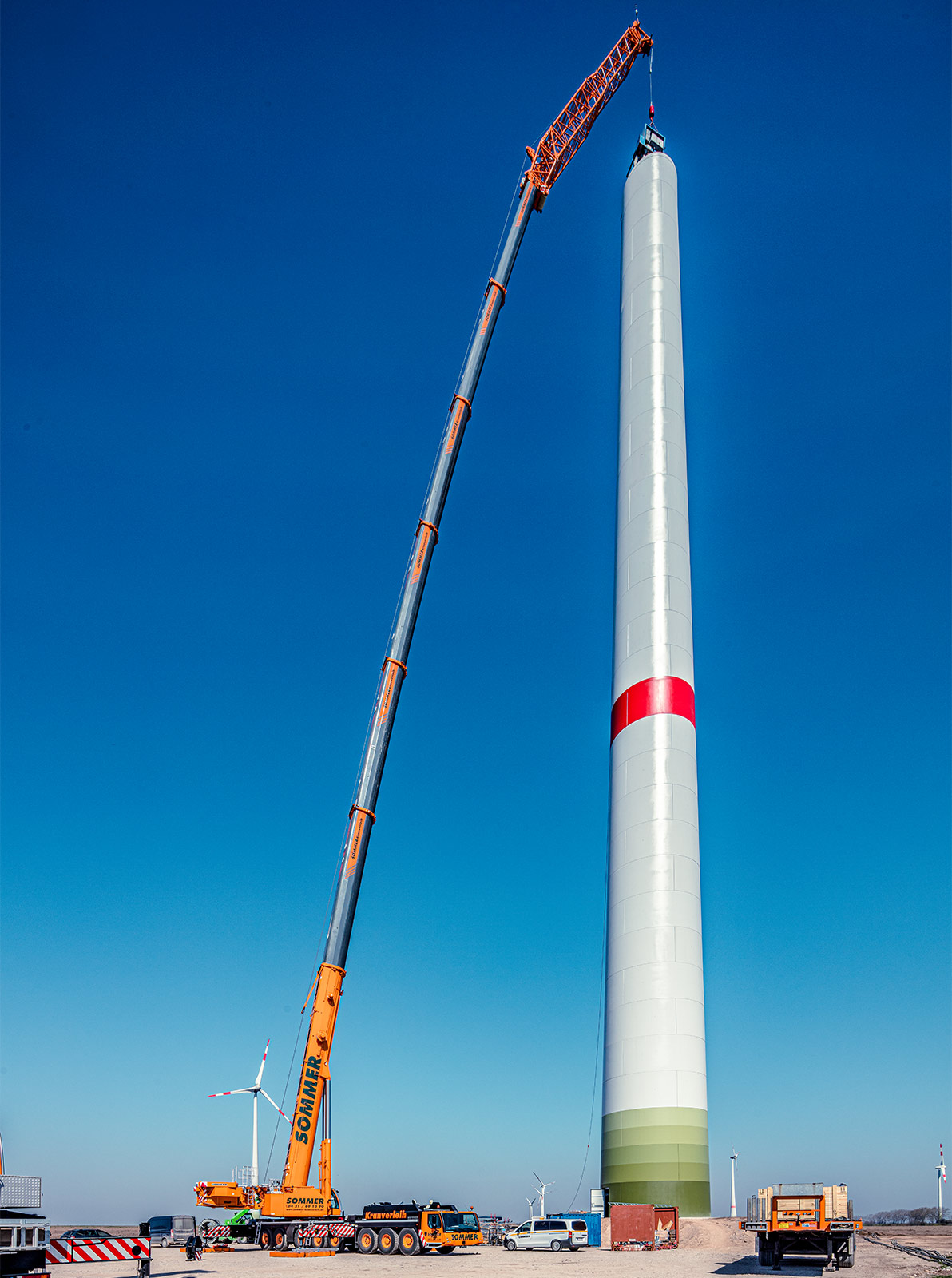 To ensure that you can continue to work safely in even higher wind speeds, we have calculated the lifting capacity tables for additional maximum wind speeds and programmed them in the crane control system. For the LTM 1450-8.1 and LTM 1650-8.1, it is 11.2 m / s (25 mph) and 13.4 m / s (30 mph) if lattice equipment is being used. In pure T mode, the tables even allow for a speed of 15.6 m / s (35 mph). In other words, our additional lifting capacity tables enable our cranes to stand firm like a rock in the surf even when the sea has a reasonable swell.
If the wind speed measured on the crane's boom during a job exceeds the set table wind speed, the crane operator can simply switch to a lifting capacity table with a higher maximum wind speed so that ideally he can continue the crane work.
In fact, higher wind speeds do not always mean that lifting capacity has to be reduced. As many factors are involved, our structural engineers produce precise calculations.
You, the customer, benefit by having the maximum performance of your crane available to you at all times.
And, in fact, there is another benefit provided by lifting capacity tables with a higher maximum wind speed – as mentioned above, the wind speed set out in the lifting capacity tables applies to a load area exposed to the wind of up to 1.2 m² / tonne. If the load area is greater than this, the wind speed must be reduced. The wind speed calculator in the LICCON job planner will complete this calculation. And as the wind speed specified in the lifting capacity table is used in the calculation, there are benefits by selecting it as high as possible so that the job can be completed.
So with that in mind, we wish you safe standing always.
Stormy greetings from the Structural Engineering Department!
This article was published in the UpLoad magazine 01 | 2020.