Course structures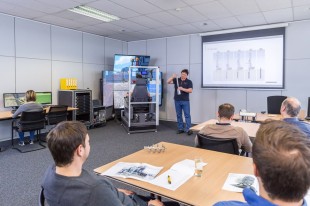 Training in Nenzing
Depending on your particular situation, courses and training facilities can be flexibly arranged.
Face-to-face training: either at a location of your choice or at our factory
Online training: independent of time and site, Web-based training
Blended learning: combination of face-to-face learning and e-learning
Courses
Based on your employee's activities, Liebherr offers courses for the following target groups:
Machine operators, crane operators
Through training in a safe environment correct machine operation leads to improved safety in everyday use.
Specialist know-how about periodic maintenance intervals and practices minimize down times and allow for increased productivity.
Maintenance staff
Through correct maintenance the maximum performance of your machine is permanently available.
Trained machine operators and maintenance staff ensure a continuous maintenance chain. This leads to a longer service life of your machine.
Fleet managers, operations managers, technical planners
Further courses are also available in our product portfolio for digital solutions.