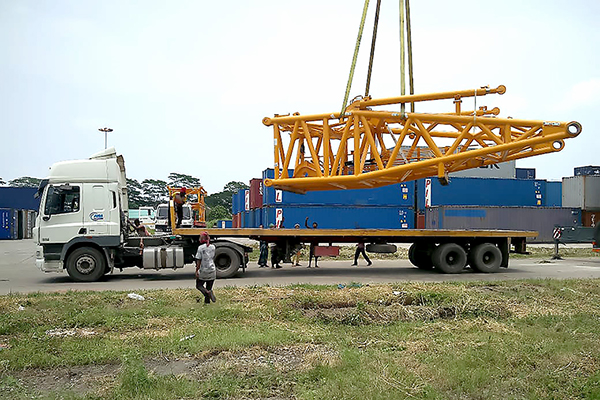 To the ends of the Earth
The new cranes and more than 200 used cranes as well as over 70,000 shipments of spare parts are supplied every year to the far ends of the Earth. Commercial laws, customs duties, licensing procedures and transport restrictions are not the only problems we face every single day, we also have to deal with trade disputes and embargoes. We talked to our CFO Mario Trunzer, our Dispatch Manager Benjamin Buchmüller and our Customs/Import Manager Michael Schuster about the challenge of getting cranes and crane components to precisely where our customers need them.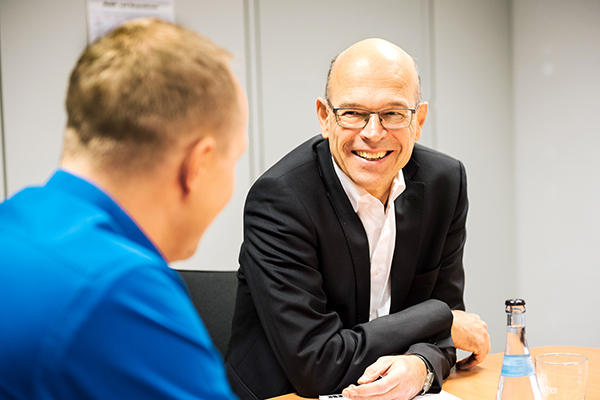 How are our cranes shipped to customers in Germany,Europe and overseas?
Benjamin Buchmüller: Our German customers mostly collect their cranes in person from the manufacturing plant. We deliver cranes to other European countries and overseas straight to the customer on site or to the destination port or our local branch companies. The basic units for the mobile cranes are primarily transported on their own wheels. If possible and sensible, we also use waterways. For example, we transport machines for our customers in the Netherlands on barges from Mannheim to Rotterdam. In addition to transport by truck, we also use railways to transport crane accessories. For example, last year we transported 160 wagon loads of crane accessories from Ehingen to sea ports, from where they were shipped to our customers. Overseas deliveries generally use so-called RoRo (roll-on, rolloff) vessels. These are essentially floating car parks which were initially created for transporting cars.
As a company, we bear full responsibility for doing everything properly. That means that we have to complete all the procedures correctly.
In addition to space for around 6500 cars, they have heavy duty decks for transporting construction machinery, tractors or, of course, mobile cranes.
Mario Trunzer: As we are a company with direct sales and a high proportion of exports, it has always been a massive challenge to send cranes to exotic corners of the world. That is why we established an efficient shipment department very early on and why export procedures and controls have been normal practice for us for a long time.
Furthermore, we work with a reliable network of logistics services partners from haulage companies and forwarders to port authorities and shipping companies.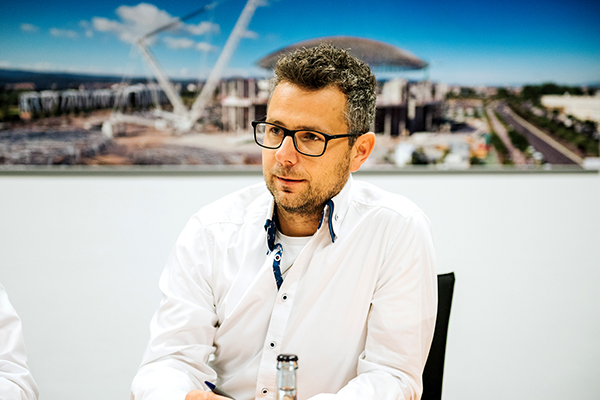 What are the actual challenges involved?
Benjamin Buchmüller: One of our greatest challenges over the last few years, and one which will certainly remain in the future, is the infrastructure with the resulting steady increase in regulations for transporting our cranes. Bridge weight limits, driving time restrictions and escort vehicles required from private companies or the police are just some of the things we have to deal. Then there is also the lengthy processing time to obtain transport licenses from authorities, which is an ongoing topic. But it is not just us, it is also our customers who are confronted by these challenges.
Mario Trunzer: As the infrastructure requires urgent building work, for example, we can no longer drive directly to the seaports we use, such as Hamburg or Bremerhaven. The additional cost for taking the diversions amounts to one million euros per year. And unfortunately, there is no improvement in sight. Logistics plays an ever more important role in the development of new crane models, which means we always have to ask the question: How do I transport a crane from A to B?
Mr Buchmüller personally inspected every pothole on the route in Bangladesh.
This is a question of weights, dimensions and axle loads. The fact that our newly developed cranes, the LTM 1090-4.2 and LTM 1110-5.1, can be driven with an axle load of 10 tonnes besides 12 tonnes is a massive benefit for both us and our customers.
What has been your most challenging shipment to date?
Benjamin Buchmüller: That was the delivery of an LR 11350 to Bangladesh for a Russian customer last year, involving special transport services in Germany and elsewhere and the initial erection process on the site.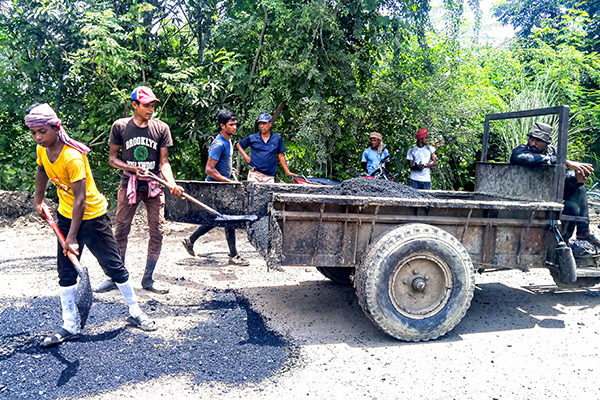 Planning the transport took several months. We had to investigate the route, which included 52 bridges, field tracks and roads which had been washed away by a monsoon. The water in the inland port nearby was too shallow for a normal ship. That meant we had to find a special vessel with a low draught. In addition to various departments here at the plant, Liebherr companies in Russia and India and our transport partners were all involved in planning the transport services. We supplied the crane to the site and our colleagues from Russia and India erected it and handed it over to the customer and also provided induction training.
Mario Trunzer: Mr Buchmüller personally inspected every pothole on the route in Bangladesh.
Benjamin Buchmüller (laughs): That journey not only left an impression on me professionally but also personally. I will remember it for the rest of my life.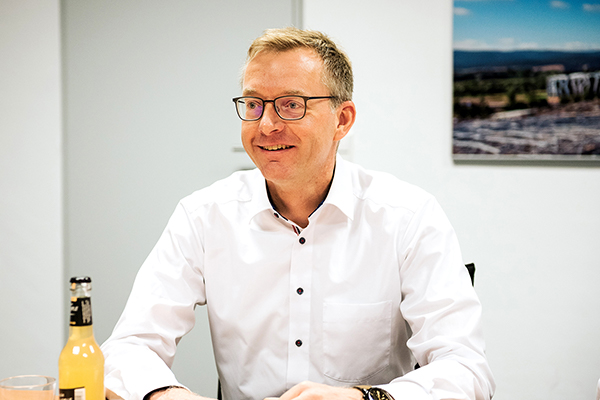 Customs and duties always play a major role in transporting goods over international borders. What are the main aspects of this?
Mario Trunzer: As a company, we bear full responsibility for doing everything properly. That means that we have to complete all the procedures correctly.
Michael Schuster: In fact, that means we have to do a great deal of checking. We have to obtain all the foreign trade details and documents in advance. That means, for example, certificates of origin and customs tariff numbers, extending to embargo regulations and export licences. All this information is then sent together in customs applications to the German customs authority. After being reviewed by the authority, we obtain final approval and they provide us with the export documentation. The goods can only leave Germany with this documentation.
Overall, more and more responsibility is being transferred to companies. That means additional checks, audits and bureaucracy. There have also been sanction lists relating to individual companies and people since 11 September 2001. We are responsible for making the appropriate checks.
Where possible, we obviously use standard procedures on our own. Our working relationship with the customs authorities and the Federal Office for Economic Affairs and Export Control (BAFA) is very close and extremely professional. We use a certified software package and an automated customs clearance system. We also use "simplified procedures" approved by the customs authorities (customs approvals). The work required for the Customs Department is almost the same whether we are exporting an LR 13000 or a small screw. For example, we only have a single customs tariff number for a crane, whereas there are lots of different numbers for a spare parts order due to the number of parts involved. The country of origin must be identified and specified even for small parts. If we make an error during the customs procedure, the entire shipment could be stopped.
Benjamin Buchmüller: Some of the challenges in this respect for the spare parts business are actually greater than those for shipping a crane. No two days are the same, orders are very difficult to plan and we are often under time pressure. That is when close collaboration with all the departments involved is essential. Together with our colleagues from Purchasing, Logistics, Customer Service, Customs and the national companies, we achieve an outstanding daily delivery rate in the high 90s in percentage terms.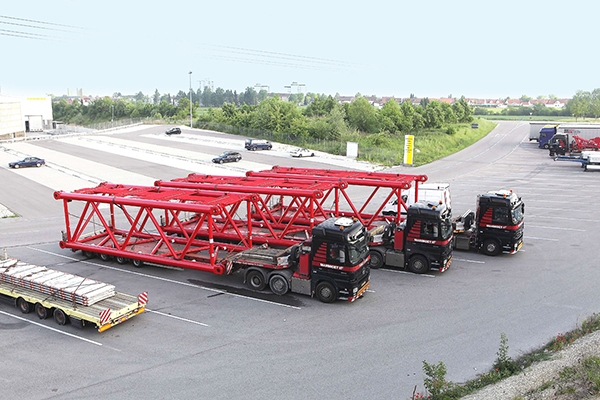 This topic obviously raises the question as to what affects a hard Brexit would have.
Mario Trunzer: We would be very much affected as we buy parts from English suppliers and sell cranes to England. Our turnover there is around 60 to 70 million euros per annum. The complexity of the procedure is completely unclear – how difficult and time-consuming will it be? But additional procedures do not scare us as we can manage every single procedure. We have already made advance purchases and have a little extra in reserve so that we do not have any difficulties in sourcing components from English suppliers.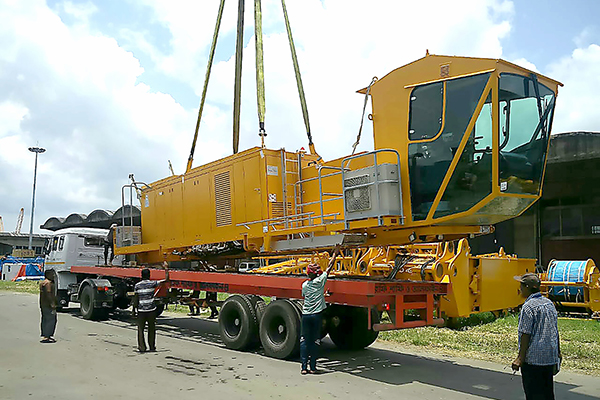 Michael Schuster: It is possible that customers in England will have to wait a little longer. But we have the expertise. Whether we deliver goods to Norway, Switzerland or England – it would then simply be a standard third-country transaction. The one question we must wait to answer is whether duties will be imposed on our products in England.
Benjamin Buchmüller: However, the initial or transition period after Brexit will certainly pose problems. The Port of Dover alone handles around 10,000 trucks, which currently pass through the port every day without any border controls. The introduction of border controls which take just 2 minutes per truck have led the port company in Dover to forecast traffic jams around 30 kilometres every day.
Mario Trunzer: This shows once again that regardless of where on the planet our customers are, nothing is possible without the professional work of the Shipment and Customs Department.
Shipments and customs in figures (2018)
• 2050 cranes (new and used)
- 1820 transported on their own wheels
- 230 on low loaders
- 900 requests to complete heavy haulage journeys
- 5200 trucks (crawler cranes and crane equipment)
• 160 railway wagons from Ehingen
• 50 cranes on barges from Mannheim
• 920 cranes on ocean-going vessels, 670 of which go to overseas destinations
• Spare parts shipments:
- 141,000 delivery notes
- 3100 air freight shipments, 1028 tonnes
- 58,900 shipments by courier, express and parcel services, 1002 tonnes
- 13,900 general freight shipments, 21,480 tonnes
• 19,000 customs applications involving a total of 152,000 items
• 50,000 items with countries of origin
• 58,000 items with customs tariff numbers
• Transport documents managed for around 55,000 sales orders
This article was published in the UpLoad magazine 02 | 2019.