Mr. Klöble, you're responsible for the smooth installation and commissioning of machines for customers in China. How did you get this job?
I've been with Liebherr for 42 years and, as a trained industrial mechanic, I was responsible for the assembly of gear cutting machines at the Kempten plant. From 2007 there was a boom in demand for gear cutting machines for large workpieces. Because I had previously overseen individual commissioning projects in Korea, I already had some initial experience with the Asian market. My boss then came and asked if I would look after the on-site assembly of these machines in China.
No day is like any other: there are always challenges and you often have to make quick decisions.
How does the assembly take place on site and what is important?
The machine is shipped in individual parts and then assembled, set up, measured and commissioned on site. Good coordination is very important here and that's what I'm responsible for. No day is like any other: there are always challenges and you often have to make quick decisions. Sometimes a special tool is missing, or there's a delay in delivering materials. And then you have to improvise.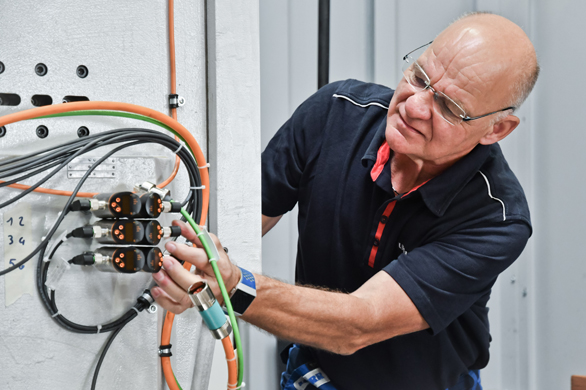 Tell us…
For example, there was once a supply shortage of Powerline chips for controlling a machine. In the end we got other chips delivered, but nobody really knew how to install them. Because of the time difference, we had to make a lot of night-time phone calls. But we managed it and got the machine up and running a few weeks later. Another time, there was no equipment for mixing the liquid concrete for the machine bed mounting fixtures. So we built a tub and an agitator out of an old oil drum and some reinforcing steel.
How do you deal with challenges like that?
It takes a lot to unsettle me. But you do need plenty of patience because there are all kinds of unexpected situations and challenges. Every assembly project is different. I'm always there at critical points during the installation. The customers know that, and for me it's just part of the job. At these moments, I'm by the customer's side, representing Liebherr.
What do you like about your work?
The processes are never the same and you're always faced with new challenges. I'm my own boss on site and can make my own decisions. I get to see the world. And my colleagues in Xuzhou, where I've been for combined three years now, have become something like my "Chinese family". We also socialize and go out for a meal together every week. I've even been invited to family celebrations.
Who's going to take up the baton when you stop?
As long as I'm still there, I'll be teaching my colleagues: I always take a mechanic and an electrician with me. Third-year apprentices can also come along. For example, in 2019 I took two apprentices to Chengdu to repair a large machine table weighing 33 tons. That took some good old-fashioned workmanship. I can only recommend field service, particularly to our younger colleagues.
I really like working for Liebherr and feel connected to the company.
When you look back – what do you associate with Liebherr as an enterprise?
I enjoy my job. I feel appreciated and my colleagues are very nice. I've been there a long time and have never had a bad experience, not even in economically difficult times. I really like working for Liebherr and feel connected to the companies.
You're not far away from your well-earned retirement. What are your plans?
I want to travel around China with my wife and visit my colleagues in Xuzhou with her. My big dream is to go to Norway in our camper van. And there are plenty of jobs to do at home and in the garden. As you can see I won't be bored. There's always something to do (smiles).