Earthmoving
Liebherr's Earthmoving product segment posted sales of € 2,008 million in 2020, representing a € 232 million or 10.4 % decrease compared with the year before.
Development compared to previous year

Turnover in € m
from 2,240
( - 10.4% )

0

Investments* in € m
from 219
( - 1.8% )

0

Employees*
from 9,329
( - 2.3% )

0
Turnover by sales regions
Central and South America

2.2%

Africa, Near and Middle East

3.9%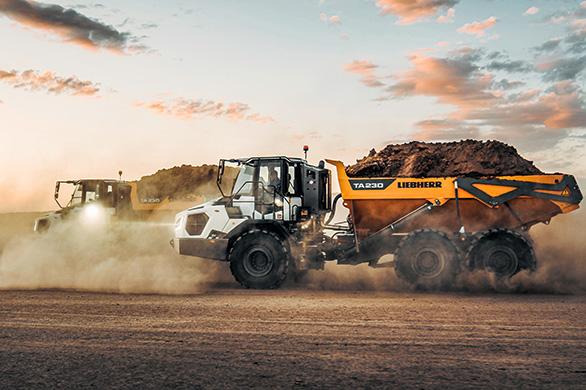 UK market share stable despite Brexit
The coronavirus pandemic dominated the global markets during the reporting year, and its effects were apparent in nearly every market. The USA were particularly affected. In Europe, sales dropped significantly across the sector, with results varying from one country to another.
The Earthmoving product segment performed in line with these developments and experienced a downturn in sales in all regions. In the European Union, sales fell in France, Spain and Sweden, although the slowdown was not as pronounced in Germany, enabling Liebherr to maintain or even increase its market share. In the non-EU countries, the UK remained stable throughout the reporting period despite the ongoing Brexit negotiations. However, sales were down on the previous year in Switzerland and Norway. Russia developed favourably. In North America, growth slowed in the USA and Canada. In the Near and Middle East, sales continued on a positive trajectory, especially in Saudi Arabia. In Asia and Oceania, sales in Australia were significantly lower than in the previous year; India, however, recorded positive growth.
The launch of the new generation of articulated dump trucks now positions Liebherr as a full-line supplier in the earthmoving area.
New products, digitalisation and sustainability
Liebherr launched several new earthmoving machines and technologies in 2020, including the first telescopic wheel loader, L 509 Tele. This versatile machine combines the lifting capacity and reach of a standard telescopic wheel loader with the handling capacity of a classic wheel loader. A highlight of the year was the world premiere of the new TA 230 Litronic articulated dump truck in October, which was unveiled in a dedicated online live stream.
Liebherr is working systematically on various digitalisation and sustainability projects. This includes a strategic partnership with Leica Geosystems, which was announced at the Conexpo trade show (USA). Through this partnership, 2D and 3D machine control systems will be installed into Liebherr's sixth and eighth generation mobile and crawler cranes on an ex-works basis. Moreover, new assistance systems were introduced for generation 8 crawler excavators. The steadily growing Reman programme, which focuses on extensive recycling and subsequent reprocessing of components, contributes to the circular economy.
Despite the continuing uncertainty caused by the coronavirus pandemic, Liebherr expects to achieve a notable increase in sales in the Earthmoving product segment in 2021. Upcoming government infrastructure programmes, which focus for example on energy supply and e-mobility, are a reason for optimism.
* includes Earthmoving and Material Handling Technology