Key components
The design of the D98 engine series includes in-house key components like engine control units (ECU) and Common Rail injection systems. Each component is precisely designed or selected for ideal matching to ensure the most efficient engine.
Crankcase ventilation
With more than 99.9% of oil separation, this closed ventilation system reaches a very high quality of filtration. Moreover, with no rotating or electric-driven components being used, the system is very reliable and enables extended maintenance intervals.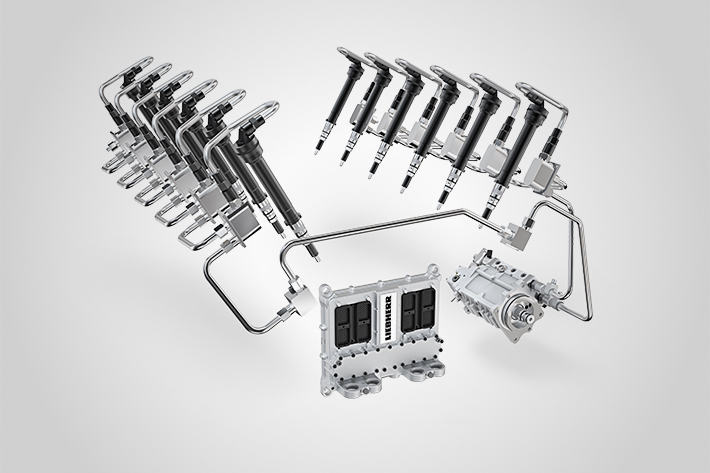 Common Rail System
The high-pressure fuel pump and the injectors of the Common Rail System are Liebherr in-house developments. The system reaches an injection pressure up to 2,200 bar and is perfectly adapted to all other engine components. Together, the components lead to optimised performance and best-in-class fuel efficiency.
Turbocharger
A newly developed turbocharging system is implemented in the Liebherr diesel engines. It provides the optimal quantity of air to reach maximum power and reduce fuel consumption.
Engine Control Unit
All functions of the engine are controlled by the Liebherr engine control unit (ECU) granting a perfect match of hardware and software. The ECU includes diagnostic software and supports extended engine lifetime.
Integrated Front End
This strategical part integrates and supports different engine components like the air compressor, the charge air cooler and the water pumps. It enables a compact and light design solution for the engine.
Modular system
Modulare system design of D98 engine
The illustration shows the modular design of the Liebherr D98 diesel engines. The scaled components can be adapted according to customer and application requirements
The D98 series is built on an intelligent modular system, ensuring high degree of responsiveness for the whole engine range. Depending on customers' expectations and application requirements, engines consist of scaled components to provide the machine with the optimized design and power at the right time.